SPORTS OPINION: Lavar Ball's JBA will be a hit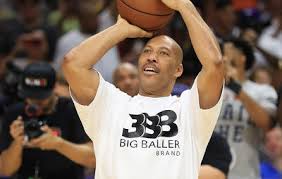 If you don't know who Lavar Ball is by now, maybe you should watch some more TV. The entire Ball family has been the forefront of sports media coverage for the past year and a half. From Lavar's absurd comments, to questionable actions made by his sons, the Ball family is in the headlines every week it seems. In spite of these negative portrayals by the media and others, many people view Lavar Ball as a marketing and business genius. Through training his sons and a lucrative business, Lavar has ensured that his sons will have a bright future. Although he has experience in business and coaching, Lavar is looking to branch out into a new business venture: creating an amateur basketball league.
Lavar is stepping into uncharted territory for anyone in sports history. He will be the first person to create an independant and privately branded basketball league for college aged men. A notable occasion where someone tried to create their own league like this was in 2001 when Vince McMahon introduced the XFL, an alternate league to the NFL. This lasted one full season and was a huge failure. History is not on his side, but Lavar has the business savvy and acumen to make this league work.
What Lavar is creating is the Junior Basketball Association. The purpose of this basketball league is for high school graduates to play immediately with no restrictions, rather than joining a college basketball program. Players ruled ineligible by the NCAA and players who decide to leave their university will also likely be invited to play in the league. Lavar is looking for eighty players to fill out ten teams that will play in arenas in Los Angeles, Brooklyn, Atlanta, and Dallas. The rules of the league will be those of the NBA. Lavar has said that he will pay the lower ranked prospects in the league 3,000 dollars per month, while paying the highest ranked prospects up to 10,000 dollars per month. All teams will be required to wear and play in Big Baller Brand gear. Although his sons will not play in the league, he aspires to attract top recruits away from storied college basketball programs. "Getting these players is going to be easy," Lavar says, but that is not the case so far. Lavar has sent invitations to many top recruits around the country with all of them declining the opportunity. The league is not off to a good start, but there is plenty of time for Lavar to turn the JBA around.
This league may not be for every player, but there are definitely players that could benefit from playing in the JBA. A hypothetical situation, which has happened before, that Lavar should be looking for is one that happened to Emmanuel Mudiay. Mudiay was a top recruit in the class of 2014 and was committed to play basketball at SMU. He later decided to decommit from SMU to play in China, in order to support his family financially. In the JBA, Mudiay could have stayed closer to home to earn money and to be graded by NBA scouts without having to play overseas. Lavar may not be able to lure most top recruits to his league, but he can offer something to transfers and players ruled ineligible that college coaches can't: the opportunity to play as soon as possible while being paid.
In my opinion, this JBA league is a great thing to happen to basketball. It has long been debated on whether the NCAA should abolish the "one-and-done" rule, where basketball athletes attend one year of college in order to be eligible for the NBA draft. The JBA would challenge the NCAA by giving these athletes an alternative to having to attend college for one year in order to reach the next level. This competition could result in the NCAA ending their "one-and-done" rule, and allowing high school graduates to enter the draft once again.
Another positive aspect of the JBA is they could acquire new talent that a select few have ever heard of. This league could be the place where a player makes a name for himself or the beginning of a future NBA superstar. As stated before, the JBA could prevent some prospects from playing overseas instead opting to play in their league, but there could be more. If there are enough spots available, the JBA could attract highly touted international prospects to play in front of NBA scouts. With Lavar's newly found influence in Lithuania, he could branch out into other countries and lure in young international players. A mix of America's top recruits and some of the best young international players could result in very entertaining games in front of millions of people.
While many people believe this league will fail miserably, I believe it will work. I do not believe that the league will have immediate success, but eventually will be a hit. Lavar has predicted many things correctly, like his son Lonzo being drafted by the Los Angeles Lakers, so if he believes this league will work, so do I. I am not saying that the league will definitely be successful, because it is still in the developing stages and there is plenty of work to do. Despite other people's judgement, I have high expectations for the JBA, as Lavar Ball has the wisdom and confidence to make this league very successful.