Students share bright ideas at Patriot Talks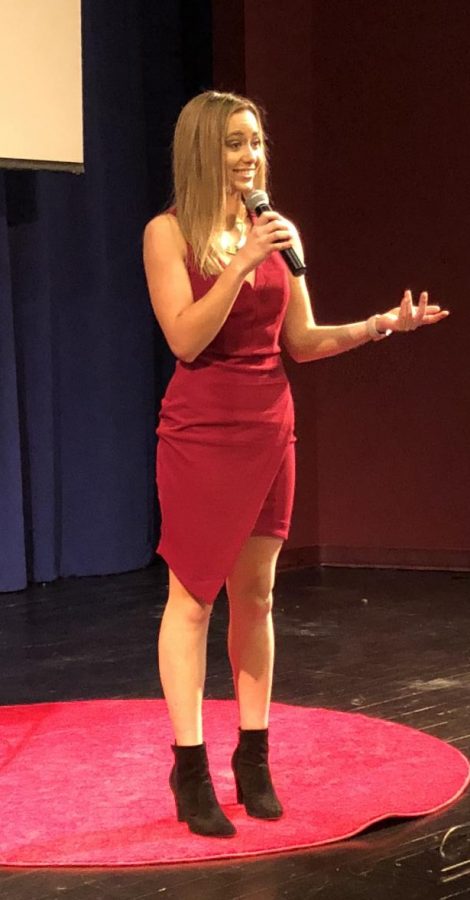 "If you had five minutes to tell the world anything that is important to you, what would it be?" This was the prompt given to the students in Ms. Jessica Wilkinson's public speaking class. 
Based on the popular TED Talks, Patriot Talks were designed for students to share anything they wanted people to hear. Similar to the TED Talk motto, "Ideas Worth Sharing," the class devised their own motto, "Bright Students Spreading Bright Ideas." Since August, the students have been writing many different speeches to help improve their delivery. "We wrote every kind of speech: narrative, informative, persuasive, imposium, and 'How to' speeches," says a participating student, Callie Mckinney. 
Not only did they write speeches, but they also learned other skills along with it. Alex Stradinger shared, "We practiced everything, from how to ace an interview to giving a toast. Many of us even got learn how to conduct an interview by interviewing our fellow classmates." Ms. Wilkinson starts each day with an improvisation activity. She asks the students a simple question like "What is your worst fear?" or "What motivates you?" along with many other topics. 
After practicing these skills, the students in public speaking are ready to take it to the next level. For their final exam grade, they have been asked to share a Patriot Talk. Each student has organized a five to eight minute speech on any topic they think is worthy of sharing. 
On December 5th and December 10th, the students shared their ideas to a crowd much bigger than their class of fourteen. They contributed ideas like the effects of social media, by Callie Mckinney, and the significance of organ donation, by Alexis Simon. They had other ideas such as what it means to be a patriot, by Ben Johnson, or the importance of being truly happy in the moment, by Elizabeth Herring, along with many more. The speeches were recorded on video and posted to the school's YouTube channel.