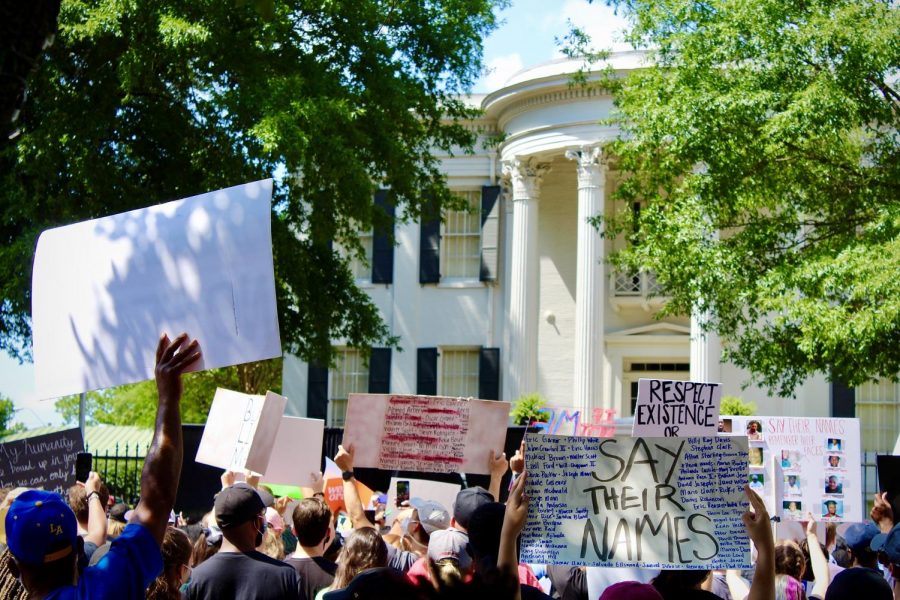 Alex Roberson
On Saturday, June 6th, a peaceful protest was held on the steps of the Governor's Mansion in Jackson, and after several speakers were heard, it became a march that walked through downtown up to the steps of the Capitol building.
Once the march reached the Capitol, participants observed 8 minutes and 46 seconds of silence in memory of George Floyd, representing the amount of time an officer held his knee on Floyd's neck in Minneapolis before Floyd died. The crowd dispersed after that. 
The protest was organized by the local chapter of the Black Lives Matter organization, and their speakers had a large platform to advocate for equality, justice and reform. The protest was advertised for days on social media, with reminders for participants to wear masks and to remain peaceful
Co-lead organizer Maisie Brown spoke in person about her satisfaction with the turnout and the passion of the protesters. The crowd was a rich mix of people young and old, black and white, straight and LGBTQ, Christian, Muslim, and Jewish. At one point, anti-abortion protesters also showed up at the edge of the crowd, causing arguments between them and some of the other protesters, although the disputes were were resolved peacefully. 
Donations such as Gatorade, snacks, masks, hand sanitizer, posters and markers were brought to the organization on June 3rd, and the group happily reported that they had collected hundreds of bottles of supplies. Medical supplies were placed on a table marked First Aid on the day of the protest, and sign making supplies were placed on a table where protesters could make one of their own under supervision. Water bottles and Gatorade were handed out by volunteers in order to combat the oppressive heat of the afternoon. Trash gags were hung on trees on fences so that protests could throw away their trash after they had used it, so that the streets wouldn't be covered in garbage after the demonstration was over.
The signs on the stage had the slogans "Black Lives Matter" and "Nonviolence is a weapon of the strong," and throughout the crowd there were a wide range of opinions expressed on cardboard and posterboard. Some of the more emphatic ones said "F*** white supremacy" or "Only racists fly racist flags" while others were more somber, saying "Am I next?," "I can't breathe," or "Say their Names," (referring to victims of police violence) as well as a handful of ones with quotes from notable civil rights leaders Malcom X and MLK. 
The event was part of days of action in the wake of the May 25 death of George Floyd. A smaller event was held earlier in the week in Jackson, and a follow-up event is being planned June 20 at the Rankin County Confederate Monument in Brandon. 
The peaceful nature and large turnout of these protests shows that people can unite together to achieve a common goal of bettering the state and country.