Powder Puff Entertains Once Again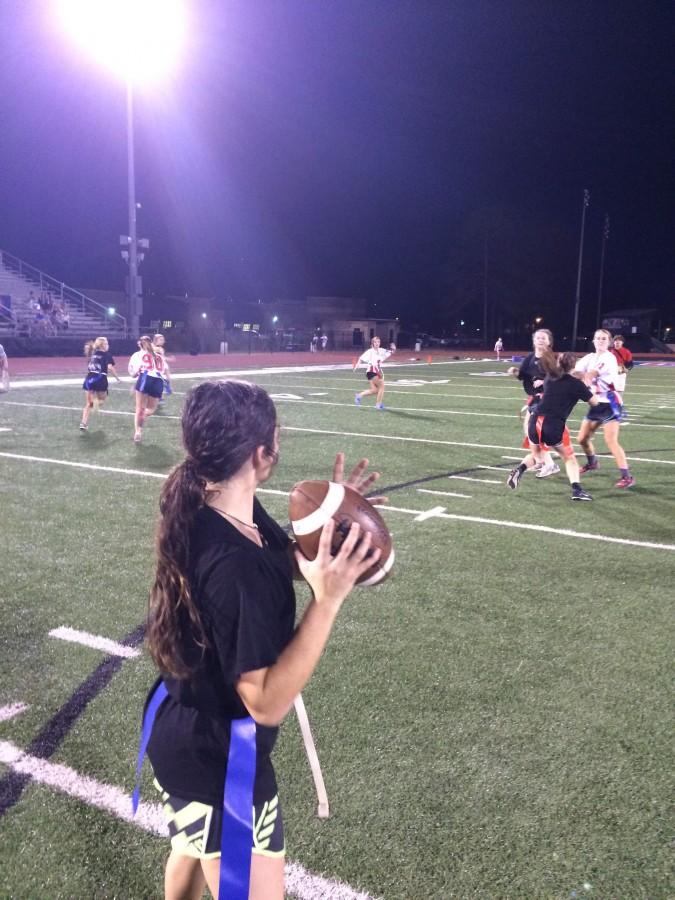 This year's powder puff tournament ended almost exactly like last year's, with the class of 2016 coming away with a victory.
The Junior girls showed that they are starting a dynasty in the powder puff world. They started with a convincing win over the sophomores who looked very new to the game. Things got out of hand when Maddie Harris took over with a few long touchdown runs. Some would have called the game a shootout, but the juniors were the only ones with a gun. Offensive Coordinator, Worth Eskrigge, chemed around his athletic group of girls to make sure the ball reached the endzone as many times as possible (almost every drive). He was able to successfully run the reverse, double reverse, and even the triple reverse more times than anyone would have thought, and the sophomores never seemed to catch on. Ross Edwards and John Keeler built one of the best defenses known to powder puff. Once the Juniors took care of business against the sophomores, they moved on to the hard hitting seniors.
The game started with the Juniors getting out to a big lead, but with the help of some interesting addition on the scoreboard, the seniors were able to get back into the game. After a few big plays like Riley Kellum's pick six, and Ainsley Smith's one handed grab in the endzone, the seniors edged a little closer to the fading juniors. Caroline "Way Too Into Powder Puff Football" Hannon and Riley Kellum took over on the offensive side to help the seniors out even more. Luckily for the juniors, Coach Eskrigge's offense got on a roll and put the game out of reach for the seniors, and allowed the class of 2016 to win their second powder puff football game.
Some awards were given in honor of players and plays that stuck out.
Awards
MVP: Maddie Harris was a threat running the ball throughout both games, and Heisman campaigns have been up in the air for the emerging star.
Best Offensive Player: Riley Kellum looked like Melvin Gordon slashing through and running over the defensive players.
Best Defensive Player: Marisol Moreno had a clutch interception and a few pass breakups, as well as key tackles.
Best Play: Ainsley Smith's one handed grab over a defender is almost as impressive as her touchdown celebration.
Best Cat Fight: Tensions flared as Simmons Barazza and Tori Jones let their emotions get the best of them as the got in a little tussle at the beginning of  the game.