Cheers for "The Dining Room"
December 7, 2016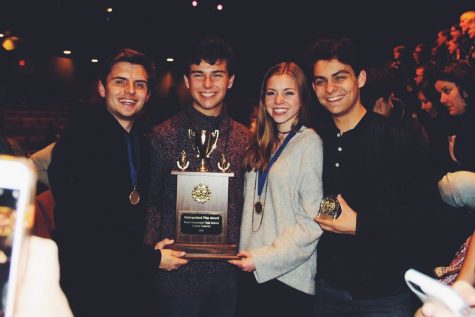 The weekend of December 2-4, Prep's one-act troupe went to Starkville to perform their play The Dining Room on Coma Stage. They had to be at school at 4:55 am on Friday morning so they could all go in a bus. The members of set crew, the fourteen members of the cast, Ms. Jessica Wilkinson, Mr. Nathan Devine, Ms. Lisa Patti, and Mr. Kenneth McDade all went. They stayed at a microtel, eating Lost Pizza, ice cream, Oby's, and on the Mississippi State campus. They spent Friday and Saturday watching seventeen plays from other schools, and they performed on Friday.
They have had three performances so far: one an JA, one at Prep, and the one in Starkville. On the way back from JA, their dining room table broke, so they had to use Chatham Kennedy's grandmother's kitchen table. This provided some challenges, as the table did not match the chairs, so they had to cover the table with a tablecloth to make it match.
The teams have 45 minutes to set up their entire set, act out the play, and return everything back to a 10×10 box. They have to start behind the "go line".
Prep won many awards in Starkville. Mr. McDade won best director, Gregor Patti won best supporting actor, and Chatham Kennedy and Keeton Landfair won all star cast. Because Prep was in the top 4 of all the shows there, they won Outstanding Show and are going to the MCA competition Martin Luther King, Jr.  weekend in Hattiesburg. They will perform another time at Prep in January.