Boys' soccer breaks MS high school record with 8th straight title
February 28, 2018
Flowood, MS — Jackson Prep's boys' soccer program has been on an elite level for almost 10 years, and their State title victory on Saturday, February 24th cemented their legacy in Mississippi high school history. The Patriots (24-4-2) dominated Jackson Academy (13-8) 4-0, capping an impressive season with their 8th straight championship win. No other Mississippi high school team has ever won 8 straight championships in a row.
Head coach Jon Marcus Duncan told his team before the game that the entire Jackson Prep community was counting on them.
"
We compete with JA for sports titles, students and accolades. They are our rival in everything, and you have the opportunity to prove once again that Jackson Prep is not only the best school in this area, but Mississippi as a whole."
— Head coach Jon Marcus Duncan
Prep had already blanked JA in the regular season (5-0) and (8-0), but as everyone knows, nothing is guaranteed in the playoffs.
Just 8 minutes into the game, Prep forward Tanner McCraney crossed a ball intended for the head of fellow forward, Russell Roberts. A Jackson Academy defender lunged at the ball trying to block the cross, but instead he deflected it into JA's goal. Jackson Prep has struggled all season with finishing opportunities in the first half so the early goal was a huge boost of confidence.
Prep midfielder, Chance Lovertich, followed his teammate with a goal shortly thereafter. Chance controlled a bad clear from one of JA's defensive backs, and then laced a top corner shot from 30-yards out. This extended the lead to 2-0 with 25 minutes left in the first half.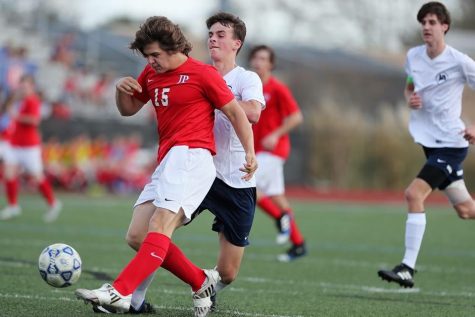 Junior Greyton Ray added another beautiful goal in the closing minute of the first half. After the halftime whistle, some of the Jackson Academy players slowly walked back to their sideline. It was obvious that Prep's third goal was a dagger for them.
The second half was filled with plenty of opportunities for both teams. Jackson Academy tallied up three shots, and Prep had four shots on goal. In the closing 10 minutes of the contest, Chance Lovertich shot from 20-yards out and the ball slid by the diving JA goalkeeper, making it 4-0.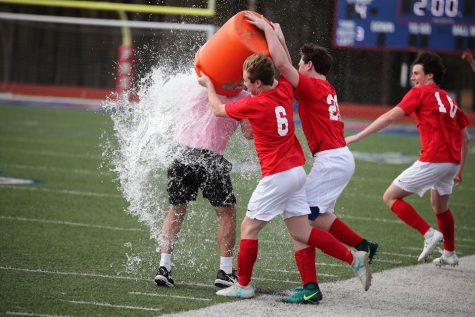 The final whistle blew and Jackson Prep not only dominated their cross-town rival 4-0, but made history while doing so. It was a long season filled with ups-and-downs. Prep did not fair too well in some early season matchups with 6A public schools, but those early loses allowed coach Duncan to identify weaknesses and make changes accordingly. One of the massive changes occured on defense. The defense learned from their mistakes, and finished MAIS play with 0 goals allowed.
The boys soccer program at Jackson Prep has been surrounded by elite company for a long time, but now having captured number 8, they stand alone by themselves. Strong junior and sophomore classes should have no problem carrying on this legacy. The junior high team went undefeated this season so it's anyone guess as to when this streak will end.