Alumni Profile: Tom Rice ('92), Movie Producer, Brings Films Back Home
October 7, 2014
As far back as he can remember, 1992 Prep graduate Tom Rice has always wanted to work with movies.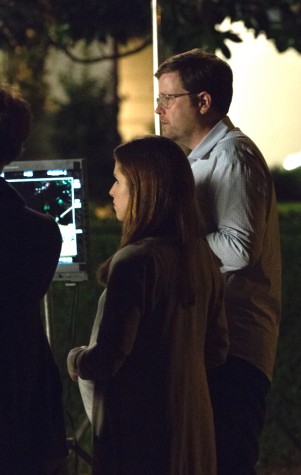 Rice was born in Jackson, where he attended Prep from seveneth to twelfth grade. He then went to New York to study film. Rice lives in Los Angeles, CA and is a producer and founder of Sycamore Pictures.
As a producer, Tom has many responsibilities. A producer provides financial support for the movie. He also works with the director to get him everything he needs to get the best shot possible.  He collaborates with the director to make the schedule and budget and is in charge of keeping everything on track.  After the movie is shot, he works with the director to edit the film and then gets it ready for market and to distribute.   
Some of his recent films include The Way Way Back and Begin Again. The Way Way Back, starring Steve Carrell, Sam Rockwell, Liam James, and Maya Rudolfph, was a big hit at the Sundance Film Festival and was a box office hit around the country.
One of Rice's films was recently shot in Jackson.  With this being his sixth big film, Rice felt, "It was time to bring one home."
He pitched the idea to shoot in Mississippi to director John Krasinski.  Krasinski, who also stars in the movie, is best known for his time on the NBC TV show The Office as Jim Halpert.
So this summer, they brought the cast and crew of The Hollars to Jackson where they were greeted with open arms and large amounts of support.
Along with Krasinski, The Hollars also stars Anna Kendrick, Charlie Day, and Richard Jenkins.  Kendrick has appeared in many recent films but the most famous was her role in the movie Pitch Perfect.  Jenkins is best known for playing the father in Step Brothers.
In The Hollars, Krasinski plays John Hollar who takes his girlfriend (Kendrick) back to his hometown when his mother is requiring brain surgery. He is confronted by his past which is full of funny confrontations with his family and friends.
The cast loved the city and the people, who were very willing to help out in any way they could.  Many Prep students were shocked to run into the cast in Fondren and around Jackson.
The crew used a few houses for filming the movie in Fondren including Ross Edwards', who is an 11th grader at Prep.
When asked about it Ross said, "The stars were all very nice and really down-to-earth people. Despite being so busy they did not mind talking with us or taking pictures. John (Krasinski) was very cool and took the time to get to know our names and us personally. They always were open to autographs and were just very nice to all of us watching." They are planning on The Hollars coming out sometime next year.
Tom Rice's next movie is coming out November 7 of this year. It is called A Merry Friggin' Christmas and stars the late Robin Williams.
When asks what he takes away most from Prep, Tom said that he remembers that the school provided a great education system with great people and teachers who made him who he is today. He is still in touch with a lot of his class, and he just participated in his 20th high school reunion two years ago. Rice said he felt at home when he was there.
Rice is back in Los Angeles now working with the crew of The Hollars to edit and complete the film to get it to market and is looking forward to working on new films.