New Teacher Profile: Richard Butler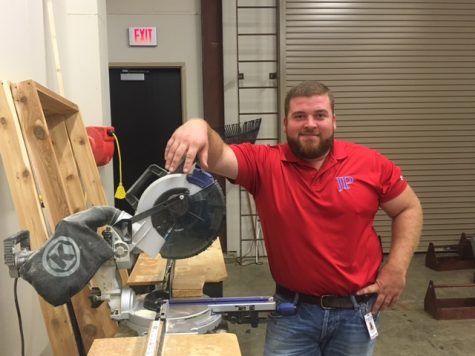 Mr. Richard Butler, a new instructor at Jackson Prep, teaches a relatively new elective, woodworking, behind Lindsay Hall. This is the second year of woodworking being accessible as an elective for 10th-12th grade students.
A 2003 graduate of Jackson Preparatory School in, Mr. Butler attended Mississippi State University and majored in Agricultural Business. Eager to utilize his profession at Prep, Mr. Butler began as a substitute teacher during the 2015-2016 academic school year for his friend Mr. John Hilburn, the woodworking teacher last year. After Mr. Hilburn took a new profession, Richard accepted the job. Said Mr. Butler, "being able to bring a skill and part of my profession to Jackson Prep seemed very fitting."
Other than teaching woodworking, Mr. Butler owns a construction business specializing in custom remodeling and additions for commercial or residential use.
Of Prep, Mr. Butler said, "I think it's a great atmosphere where everyone strives to take education to the next level and transmit it to a life situation."
Mr. Butler's primary objectives for the class are to educate in tool recognition, use, and safety, and reach into students' creative side with hands on projects led by sophomores, juniors, and seniors. Essentially, the mission involves taking an idea and bringing it to life through application of power tools such as table saws, hand saws, nail guns, routers, planers, and edgers.
Mr. Butler described the class as goal-oriented with a comprehensive look at woodworking tools. On the subject, he said, "90% of each class attempts new things." The course incorporates geometry, physics, architecture, engineering, design, and algebra.
Outside of woodshop and construction, Mr. Butler is an avid shooter and enjoys helping out on his family farm, as well as watching documentaries and TV shows on the History Channel. Besides occasionally being able to participate in those personal interests, he said, "I don't have free time."