New Teacher Profile: Paige Polk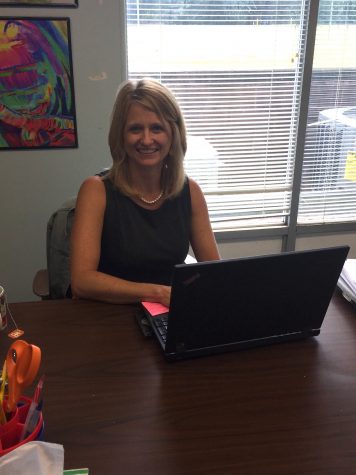 Ms. Paige Polk was hired this summer to teach 8th grade Integrated Science. She is in room 217 of the Junior High.
Growing up in Natchez, she attended Natchez High School before going to college at Mississippi State University. After graduating college, she began teaching and has done so for 18 years, most recently teaching the 5th and the 6th grades at First Presbyterian Day School. During her time there, she taught many current Jackson Prep students.
She has two children who attend Prep: Brady, who is in the 9th grade, and Macy, who just started at Prep in the 7th grade. Ms. Polk became interested in teaching at Prep after Macy graduated from FPDS in May, meaning both of her kids would be attending school at Prep this school year. Ms. Polk also wanted to return to teaching science, which she had taught in the past and is what she enjoys teaching the most.
Before she started at Prep, Ms. Polk had an expectation for it to be a great learning atmosphere with the facilities, the teachers, and the students being at the highest level. She says so far Prep is "just as great as I expected," and that the kids here "love to learn and Prep has a great environment for them to do so." Coming from an elementary school, she describes the environment of teaching junior high students to be somewhat different but fun.
Ms. Polk looks forward to her students collaborating and exploring new concepts in both Earth Science and Physical Science this year, and she wants her students to learn a lot of information while having a good attitude and being enthusiastic. She is very excited to be at Jackson Prep and is ready for a great first year here.