New Teacher Profile: Margaret Harvey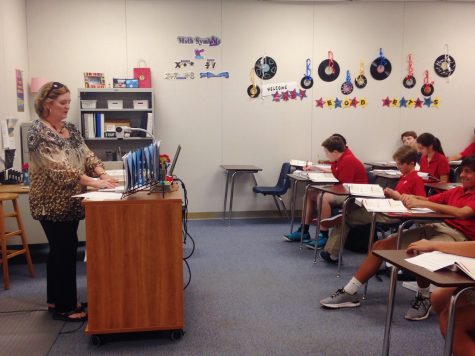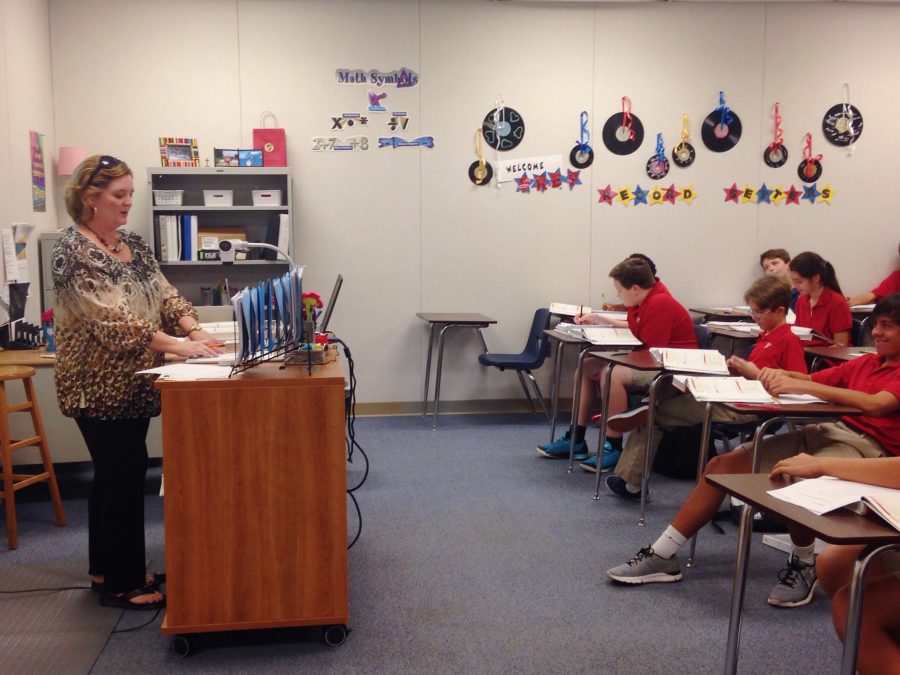 Although she is listed as a "new teacher" to Prep this year, this isn't the first time Ms. Margaret Harvey has spent time decorating a room, creating lesson plans, and attending meetings to prepare for a year of teaching on Prep's campus.
From 1994 to 2000, Ms. Harvey worked at Prep as part of the Math department, as the Junior High cheer sponsor, and as a Junior High tennis and basketball coach. Now, Prep parents and students are excited to have Ms. Harvey back as part of the faculty, teaching three classes of eighth grade Algebra Essentials and one class of seventh grade Pre-Algebra, and she is excited as well. "I love the ages of the children," she says. "They're so independent. So far, seventh and eighth grade has been great."
Ms. Harvey grew up in the Jackson area as the oldest of four girls, and she is an 1988 alumnus of Prep herself. After attending First Presbyterian Day School through sixth grade for her elementary years, Ms. Harvey spent the remainder of her middle school and high school years at Prep.
During high school, Ms. Harvey supported the Patriots by getting involved in a variety of school activities, including tennis, cross country, basketball,  powder puff football, and student council.
Ms. Harvey did not see herself becoming a Math teacher one day, but she states that her Math teachers at Prep, such as Ms. Kathy Hays, Ms. Margaret Smith, and her seventh, ninth and twelfth grade Math teacher, Ms. Judy Jenkins, definitely prepared her for the job that she has now. "I have them to thank," says Ms. Harvey.
After high school, Ms. Harvey spent two and a half years at the University of Mississippi, but then went on to complete four years of schooling and receive her degree at Millsaps College.  
She started her first official teaching job working for a few months as a Kindergarten assistant at Madison Avenue Lower Elementary, and for the past six years, Ms. Harvey has worked at First Presbyterian Day School as a Kindergarten teacher.
One benefit of having these two jobs is the that Ms. Harvey got to watch many students grow up over the years. "Next year," she noted, "the [students] I taught in Kindergarten, I may get the opportunity to teach here at Prep."
Ms. Harvey is not only busy at work in the classroom. She is married to Mr. John Harvey, a financial planner with Wellspring Wealth Group, and is a very supportive mom of her two children. Both her daughter and her son attend Prep, and currently, they take part in some of the same activities that Ms. Harvey was involved in during her high school years. Anne Clark, a junior, enjoys Pacers, art, and student council, and Jack, a seventh grader, participates in cross country and football.
Watching her daughter dance during the halftime of a Friday night football game or driving her son Jack to run the cross country trails for the Patriots occupies much of her time, but Ms. Harvey loves it.
She states, "Prep is the very best place for them to discover their potential. It helps them be great at what they love, and Prep helps find a niche for everyone."