"Prep Talk" airs live from Patriot Avenue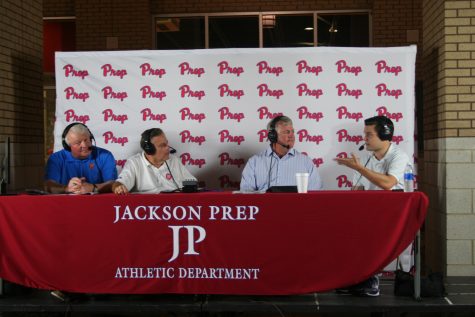 Prep Talk, which livestreams as well as being broadcast on EZ 87.7 FM, was live Wednesday night on Patriot Avenue.  
Lost Pizza provided free pizza for everyone, paid for by Flowood auto dealership Mac Haik.  Anyone was welcome to come and listen to the radio show hosted by John Andrew Griffin, William Griffin, and Russ Robinson.  
They talked about the past week's game against Lamar and the key players involved in the game.  The main topic of the night was the upcoming game against Jackson Academy this Friday night.  
Coach Nick Brewer, Coach Jacob Land, and Athletic Director Will Crosby were the special guests, and they talked about their predictions and thoughts about the upcoming game.  
The cheerleaders, Pacers, and band provided entertainment between breaks.  Overall, it was a great night of food and fun.