'Music Man' prepares to hit Prep stage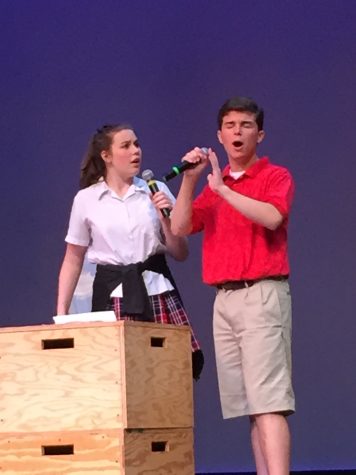 The school musical is a production that is always looked forward to at Jackson Prep. It involves close to 200 Prep students who donate large amounts of their time to the production. This year the musical is The Music Man.
Senior Lawson Marchetti, who has been involved in many other productions, has the title role in the upcoming event.
The Music Man has been a Broadway musical and a hit movie. This musical tells the story of a man, Harold Hill, arrives in River City, Iowa and pretends that he knows a lot about music. Actually he does not know anything about music, but is an accomplished con man. He plans on making money and leaving the town, but he falls in love with the librarian, Marian.
Ms. Diane Holbert, the director, is assisted by Ms. Anna Griffin, who is helping with acting and staging. Ms. Holbert said that she loves the time period of this musical, which is the early 19th century, partly because of the costumes and the sets. She said that she has never done a play during this time period and is excited about it. She likes that there is a quartet of men in the musical, as well as the other different characters in the musical also. She has loved working with the cast.
Ms. Griffin said that this is her all time favorite musical and that it has been very fun working with this group. She enjoys helping with the musical and said that it has been a real joy. She loves that one of the main characters is a librarian. She also said that there are a great group of parents working on the sets that are committed to the arts at Jackson Prep.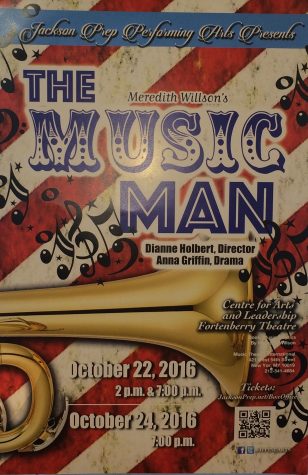 Ms. Holbert and Ms. Griffin said that they love working together on this musical, and it has been so much fun.
Marchetti said he was most excited about the musical because he was able to develop such a complex character. He is also thrilled to act with all the other people involved. He was happy to get the lead his senior year since he has been involved in performance his entire Prep career.
Performances of The Music Man will be Saturday, October 22 at 2pm and 7pm and Monday, October 24 at 7pm.
The Music Man promises to be enjoyable for the whole Prep community.
Tickets can be purchased online at www.jacksonprep.org or at the door.