Community Partner Week
This year, Jackson Prep's community service partner is the Mississippi Diabetes Foundation, and during the school week after Labor Day, Community Partner Week helped inform students about the partnership and the opportunities to volunteer.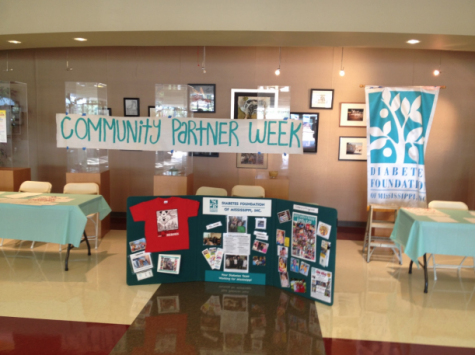 Diabetes is a prevalent disease throughout Mississippi that seems to be unending. Over 1,000 diabetic related deaths occurred in 2012, and over 276,000 people in the state have diabetes according to the Mississippi State Department of Health. Diabetes can be caused by many things, but the most common reasons are genetics and an unhealthy lifestyle.
Being one of the most financially challenged states, many Mississippians do not have the means to eat healthy. Once Diabetes sets in, it can be a very costly disease forcing the patient to have no choice but to eat more unhealthy fast food. This vicious cycle can be hard to overcome and is what the Mississippi Diabetes Foundation hopes to aid.
Jackson Prep, in turn, wants to aid the Foundation in its overall goal of lowering the diabetes rate in Mississippi. Community Partner Week was held to show everyone what the Foundation was and how it attempts to accomplish its goals.
The Diabetes Foundation will be holding several fundraising events that students will be able to help with and get community service hours. Among these are: a golf tournament in which a student will take pictures, help at the Foundation's office, various collections, counselors at the Foundation's camp Kandu, visiting diabetic children, a Bacchus Ball held by the Foundation, a decorating of the Foyer around Christmas time to look like Camp Kandu, and raising money to buy a dog that is trained to alert a child on the edge of a high or low blood sugar situation. All of these programs and activities will be going on throughout the year, so look for opportunities to help. For further information on how to help, contact Ms. Anne Duncan.