New Teacher Profile: Ms. Kimberly Reedy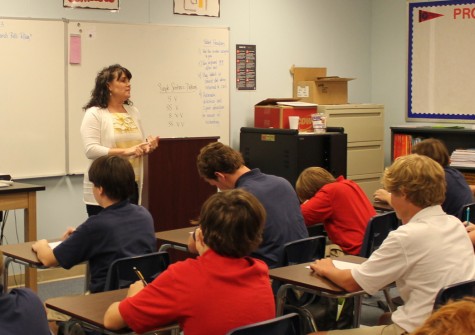 Ms. Kimberly Reedy grew up in McComb, MS. and attended the University of Southern Mississippi. Ms. Reedy majored in English and later obtained M. Ed with emphasis in Curriculum and Instruction and Secondary English with a minor in Latin. She previously taught English at Ecole Classiques in Metarie and Clifton L. Ganus in New Orleans, LA. Ms. Reedy has been an English consultant since 2005 in Mississippi and Louisiana. She has also worked with English and literary teachers from grades kindergarten through 12 grade.
In her family life, Ms. Reedy has 3 girls. Her daughters are Kailee, a 12th grader; Lauren, a 10th grader; and Mallory, a 6th grader. Her daughters attend the Brandon Public Schools. Ms. Reedy's hobbies and interests includes reading and being involved in her children's activities. Her husband, Guy Reedy, is a lieutenant colonel in the military and has done 3 tours of duties overseas. Mr. Reedy and her family attend church at First Baptist Church in Jackson.
Ms. Reedy teaches 8th grade English and will be the Junior High English coordinator. She is also the sponsor for the junior high literary magazine. She learned about Prep through Ms. Trina Sapen. Ms. Sapen and Ms. Reedy worked together in the JBHM Education Group. Ms. Reedy wanted to work with kids again and felt Prep was the right place. She loves Prep's way of life and wants to make an impact on student's lives.