Pet Profile: Frito-Bill Jr.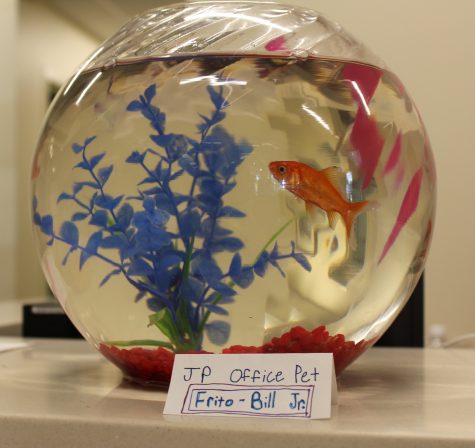 Who lives in a fishbowl in the Senior High Office? Frito-Bill Jr.! Since August 22nd, Jackson Prep's latest mascot has been making a splash on campus.
Emily Clark, a sixth period senior office worker, brought him to his forever home after Ms. Hetzel's biology class conducted an experiment to see the fish's breathing patterns would react when placed in water of varying temperatures.
To help him adapt to his new lifestyle, Coach Nell Bradford purchased a tank for the little orange fish. His aquarium sports his favorite colors, which include red and blue, so it is littered with red rocks and plastic and has a blue plant.
When referring to Frito-Bill Jr.'s introduction to the senior high, Clark said, "It's been super awesome. Everyone loves him. The first day we got him everyone just stood around watching him swim."
He is known by his his aunts Coach Nell Bradford and Ms. Lelia Manning as a strong swimmer and diver. He is the Jackson Prep Swim team's biggest fan.
When not practicing his diving routine or playing with his dog, Mike, Frito-Bill assists Ms. Manning with her office work.
Frito-Bill Jr. considers himself a lucky fish because he has a plethora of nicknames: FB2, Bill, and Frito. His godfather, Dr. Luke Nealey, says, "I call him Bob."
If a student needs something to smile about during the day, stop by the Senior High Office and say hello to Frito-Bill Jr.