Dixie National Rodeo hits town for 52nd consecutive year
"
It is a super fun, family friendly event that people from all over Mississippi come to"
— Maggie Waller
From February 9th to February 15th, cowboys, cowgirls, horses, bucking bovine, and various country singers filled the Mississippi Coliseum for its 52nd annual Mississippi Dixie National Rodeo. The rodeo, produced by Smith, Harper, and Morgan Rodeo Company as well as the Mississippi Fair Commission, has become a family tradition for several Mississippi families throughout the state, and members of the Prep family have recently enjoyed it as well.
According to an online welcome to the event by Mississippi Commissioner of Agriculture and Commerce, Cindy Hyde-Smith, the Mississippi Dixie National Rodeo has been nominated as one of the Top 5 Large Indoor Rodeos of the Year for the past five years. This award is voted on by the cowboys of the Professional Rodeo Cowboy Association (PRCA), and it recognizes the hard work of the Mississippi State Fair Commission Members that put both the Mississippi State Fair and the Dixie National Rodeo together.
This year, the rodeo showcased eight different showings over the course of one week, including the traditional entertainment of barrel racing, team roping, saddle bronc riding, bull riding, and an appearance by the legendary, locally adored rodeo clown, Lecile Harris.
Musical entertainment for this year's Dixie National included Chris Jansen, famous for his recently released singles, "Buy Me A Boat" and "Holdin' Her", Diamond Rio, the Academy of Country Music's Top Vocal Group from 1991-1992 and a recipient of the Country Music Association's Vocal Group of the Year award, and Dustin Lynch, a young artist nominated for Top New Artist of the Year in 2014 and Breakthrough Video of the Year in 2013.
In addition to the rodeo itself, on February 11th, the Dixie National Rodeo Parade also made a reoccurring appearance, beginning at the Mississippi State fairgrounds and strolling  through the streets of downtown Jackson. The parade is often led by Governor Phil Bryant and his family, and it is made up of mule drawn wagons, parade floats, motorcycles, tractors, and antique cars.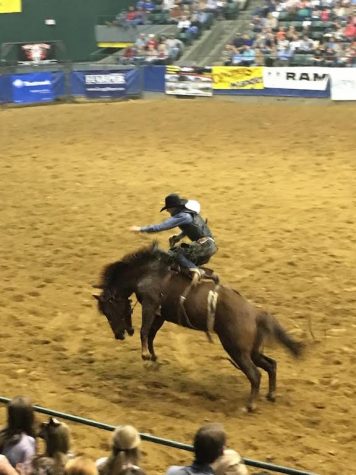 Sophomore Maggie Waller, has participated in the parade for the past five years with her family, riding her quarter horse, Lady. She stated, "My dad often brings his carriage, which is pulled by our two grey percherons, Dee and Natalie. It is a super fun, family friendly event that people from all over Mississippi come to during Dixie National season."
It's safe to say that many Mississippians are looking forward to the 53rd Dixie National Rodeo in 2018. Until then, there are a variety of activities going on at the Mississippi Coliseum, including performances by Toby Mac, Brantley Gilbert, Lee Brice, Justin Moore, and Brett Young. For more information, visit https://www.mdac.ms.gov/bureaus-departments/state-fair-commission/upcoming-events/