Athletic Chic: dress cute and comfortable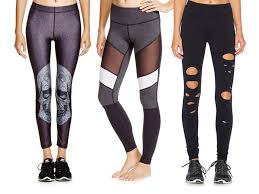 In the last few years, fashion has changed drastically. It has taken on a more relaxed style known as athletic fashion. This style can be dressed up for a night out with friends or dressed down for just running errands.
One of the biggest things in athletic fashion is leggings. Leggings come in a variety of styles, from casual and comfy to bold and stylish. You can dress these pants up with a fun sweater and boots or wear them casually with a t-shirt. Women love these because not only are they comfortable and easy, they're affordable and can be paired with anything. Another trend in athletic pants is track pants and sweat pants. These aren't necessarily the most fashionable choice, but they are easy to throw on. Recently, celebrities have begun to dress up these two types of pants by wearing them with a fashionable shirt and heels. This isn't practical for most people, but it shows how styles have changed.
Shirts have also taken on a new style. Women have begun to wear fashionable t-shirts. These range in style from plain t-shirts to ones with quotes and pictures. These can be paired with leggings, jeans, shorts, or skirts. Another new trend is jerseys. Many women have started wearing these to sporting events and dressing them up with fun bottoms and jewelry. Sweatshirts have also taken on a more fashionable style. There a variety of styles and colors that can be thrown on over any outfit. Letterman jackets have also made their debut in fashion. These new styles are fun and simple, but can be dressed up.
The biggest thing in athletic fashion is tennis shoes. This new style of sneakers is not for working out. These are for wearing. You can go with a casual style like Nike or Adidas, or a more dressy style like suede or leather. The most popular style is hightops. Some of these sneakers even have heels. These can be paired with dressy or casual outfits.
This style of fashion is unlike any other in the sense that it is not only casual and easy, but it is stylish and fun.