Student Profile — Meet Jackson Prep's Most Talented: Madeleine Porter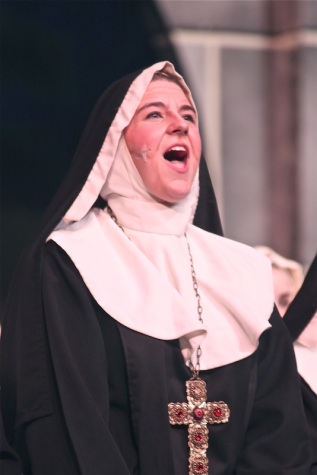 Whether it be in the classroom or on stage, senior Madeleine Porter is a familiar name. She is extremely hard-working, talented, and will leave you wondering, "What can this girl not do?"
Madeleine is the oldest daughter of Trey and Kim Porter and older sister of Claire, a junior at Prep. She attended First Pres before entering Prep as a seventh grader.  At Prep, Madeleine has enjoyed the variety offered academically as well as artistically. Her favorite teacher is Ms. Anna Griffin, who taught her english, also her favorite subject, as a junior. She credits Ms. Griffin for inspiring her to start thinking about education as her career.
At Prep, Madeleine has been involved in various clubs and activities. You have most likely heard about her in the theater department. Her acting career began at a theater camp at New Stage in 2010. That year, she played the old woman in Beauty and the Beast, Jr. on the main stage. Her first principal role was in Legally Blonde, Jr. at New Stage where she played Paulette, the hairdresser, and got to sing "Bend and Snap" in front of a crowd of people every night. To this day, Legally Blonde, Jr. reigns as one of her favorite plays.
Acting has had a huge impact on Madeleine's life. She credits her success in acting to her confidence in her abilities and social skills. Her favorite part about acting is slipping into a character and telling their story. She says, "Acting is how I grew up and how I came out of my shell." Madeleine describes herself as introverted so the hardest part about acting is pushing herself to step outside her comfort zone in order to get better. She explains, "As actors, people have to push themselves to entertain and you can't do that if you restrain your full potential. If you're not having fun while you're acting, you're doing something wrong."
Her favorite comedy role is either Eulalie Mackecknie Shinn from The Music Man or Lina Lamont from Singin' in the Rain because both roles are so different from her personality. She says, "Both are so different from me personally. It was really fun to be a bit out there for a while. And both created a lot of laughs which meant I was doing my job right." Her favorite drama role is Mary Jo from A Piece of My Heart. It was this role that won Madeleine All Star Cast Member at two one act competitions last year. But while playing Mary Jo, she learned how important acting was by telling the story of women affected in Vietnam during the war.
If she could be in any play, it would be The Crucible because she loves the story. If she could be in any musical it would be In the Heights because she loves to listen to it and even warms herself up before she sings or announces.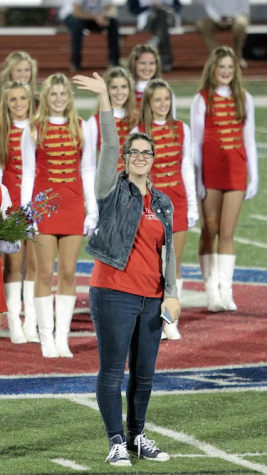 When she is not acting, you can find Madeleine working hard as the manager of the Pacers. She announces the Pacers before every performance, makes sure the music gets to the press box at every game, takes responsibility of thirty-six phones and keys, travels to every football game, and so much more. She began announcing the Pacers at each pep rally as a freshmen. She loves being the Pacer manager because she gets to interact with a group of girls outside of her friend group and gets to meet people from all over Mississippi when introducing herself each game to the people in the press boxes. She says, "I've loved every second of being Pacer manager. It's been a wild ride."
Madeleine plans to major in Secondary English Education and to attend the University of Mississippi. After college she mainly wants to focus on her writing. However, she would love to teach English, especially somewhere in Mississippi or to teach a drama class. Her dream job would be to do something with voice acting or produce her own podcast.
Outside of school, she enjoys acting, writing, and singing. Her favorite TV shows are Voltron: Legendary Defender and Black Mirror. She is also very interested in filmmaking and in her rare free time she writes screenplays for short films she wants to make in the future. She wants to finish and shoot one before she goes to college. As if she was not already busy enough, she is currently learning French, Spanish, Norwegian, Romanian, and Chinese.
Madeline has definitely left her mark at Jackson Prep and has a bright future ahead of her.