Student Profile — Mackenzie Nichols is a Jackson Prep student prodigy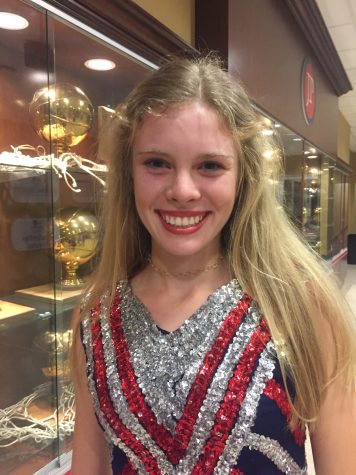 Ever met a star tennis player, a successful honors student, and a Jackson Prep Pacer all wrapped up into one? Fifteen-year-old sophomore Mackenzie Nichols is these things and more, showing her determination and spirit in all that she does while setting an example of hard work for her peers.
Mackenzie is the daughter of Drs. Michael and Kim Nichols, and the sister to eighth grader, Mason Nichols. Although her parents did not grow up in Jackson, Mackenzie has lived here all of her life. In kindergarten, she attended Saint Andrew's Episcopal School in Jackson before switching to First Presbyterian Day School in Jackson for the remainder of elementary school. Mackenzie has been at Prep since seventh grade and has been involved in a variety of activities since then such as swim team, art, Service Club, tennis, track, and cross country.
Of all of these activities, tennis has definitely been her favorite. Mackenzie plays tennis year round, competing against players across the state of Mississippi and competing against members of the MAIS (Mississippi Association of Independent Schools) for Prep during the spring. Because practice usually involves twelve hours of hard work each week, saying that Mackenzie is devoted to the sport would be an understatement.
The work that she puts into improving her game is often tiresome, but Mackenzie, her coaches, and her parents see it pay off. In a recent competition in Meridian, Mississippi on January 28th, Mackenzie played well in the eighteen year old age bracket, reaffirming her position as first in the state for the sixteen year old division. She is looking forward to playing for her fourth year for Prep in March.
A typical week for Mackenzie includes tennis and voice lessons on Monday, tennis and piano lessons on Tuesday, tennis and church on Wednesday, and tennis on Thursdays and Fridays, so one wouldn't be far off to ask, How does she manage it all? The answer is actually quite simple. She's organized. Strategic and prompt, Mackenzie takes care of every second of the day. She stated, "I definitely have to manage my time, but I think it's good to be doing stuff a lot because it's relieving not to just do school all day."
In twenty years, Mackenzie hopes to be out of medical school and practicing medicine, similar to her parents. Although there are many places that she would be interested in touring, she doesn't know where she wants to complete undergraduate school. "It will probably take a while for me to decide," she said. Mackenzie hopes to return to Jackson for medical school, and after she has received her doctorate, she hopes to start a family.
Mackenzie is a friend to many, and she has multiple nicknames across campus, including Chinz, Machinzie, and Mack. AnnAdair Blackledge, a sophomore and friend of Mackenzie, spoke about her good character. "Mackenzie is upbeat, and she loves to laugh," she said. Amidst all of her activities, Mackenzie stays positive, and often causes her friends to laugh along with her.