Chance the Rapper: a voice for Chicago and Jackson


With three Grammy Awards this year alone, Chance the Rapper (born Chancelor Bennett) has been given the opportunity to use his fame for good and is taking advantage of it. In his third mixtape, Coloring Book, he puts a new and optimistic perspective into his lyrics with regard to his personal struggles and those of Chicago, his hometown
Bennett tries to tell "everyone's story" through his lyrics, instead of trying to relate to one particular group.
His father, Ken Bennett, has always been involved in Chicago politics and currently serves as the deputy chief of staff for mayor Rahm Emanuel. In a recent interview with Rolling Stone Magazine, Chance voiced concerns over President Trump's strong-arm approach to the city of Chicago's issues. In the interview alongside NBA player and fellow Chicago native Jimmy Butler, Chance said he is tired of people talking about Chicago "like it's a Third World Country."
Similarly, people will slap a racist nickname like "Jafrica" to Jackson and walk away laughing in ignorance. Like Chance's Chicago, which is a "place of booming business with a very successful downtown and all types of new development," Jackson is on the up and up. Downtown is growing rapidly with the recent $90 million refurbishment of the King Edward Hotel as the cornerstone.
A new chocolate and confectionary store, Sugar Ray's, has opened nearby. Prep students visited the store recently. Of her experience at Sugar Ray's, senior Jordan Davis said, "There were so many options to choose from. I got a slice of pound cake. It was so good that I ate it within two minutes of getting it." Apartments and other residential buildings are popping up all over the predominantly business district like Capital Art Lofts, another residential project by J & J Hospitality, the group responsible for Sugar Ray's and HRI Properties based out of New Orleans. The construction for the Lofts broke ground in January.
And that's just in Downtown.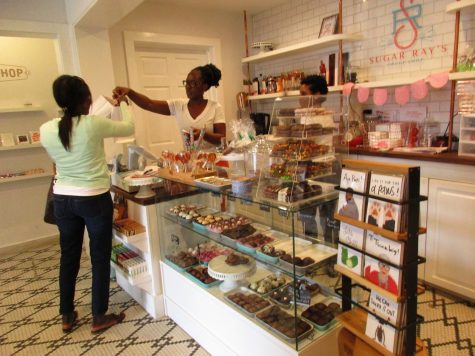 Northeast Jackson has received a recent boost from the redesign of Highland Village and the construction of the District at Eastover. The District bills that it will be bringing a movie theater back to the capital city for the first time since the Capri Theatre in Fondren closed in 1985. Our once booming city has now been revitalized due in part to the aid provided by donations, hard work, and dedication
Charity manifests itself in many ways in this day and age. For instance, Chance the Rapper now has more Grammys than he has songs sold. All of his albums are available for free on streaming services because he did not want to be subject to the opinions of a music label and didn't want produce music for personal financial gain. Regardless, the independent rapper has been able to earn a living for himself and then some, consistently donating to individuals, cities, and organizations in need.
Like his organic style of producing music, Chance's grassroots approach to politics encourages citizens to voice their concerns through a healthy dialogue with the city. On Thursday, March 2nd, Chance met with the governor of Illinois, Bruce Rauner, to talk about upcoming spending cuts to public schools. Upset with the cuts, he decided to donate $1 million to the Chicago Public School system. Not everyone has the ability or want to donate money to a city many view as "failing," but this style of bringing about improvements and change through open conversations and willingness to help others should be adopted by more people in Jackson given the city's bright future.