Change is coming to the Prep schedule
A new schedule will not be implemented until the 2018-2019 school year. From Issue 6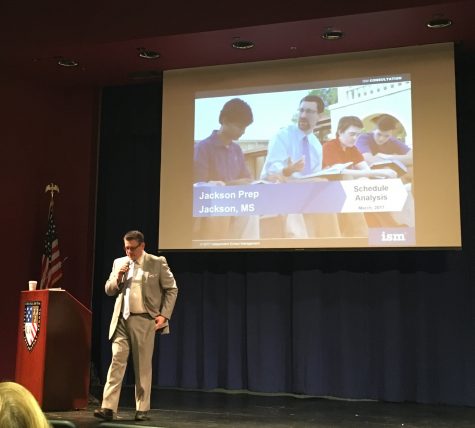 Jackson Prep is currently considering a revamping of the school schedule, and has hired a consultant team that will help the school choose and implement a new schedule.
The drive for a new schedule comes the strategic plan developed by the faculty, Board of Trustees, parents, and students in a process that began in the 2014-2015 school year. A schedule change will hopefully open up new opportunities for students to take a wide variety of courses. Other goals of this new schedule are that it will be more flexible than our current schedule and more student-centered.
The group that is helping the school is Independent School Management (I.S.M.).
They have been studying our schedule all year and will continue to do so. Prep formed a task force which includes junior high teachers, senior high teachers, coaches, sponsors and many more. This task force met with I.S.M. representatives and shared their priorities for the things that they wanted to have in the schedule.
Ms. Carolyn Sisk, Prep's Director of Academic, and Mr. Hunter Upchurch, Assistant Director of Academics, have been coordinating the development and implementation schedule.
An ISM consultant, Dr. Bryan Smyth, was on campus the week of March 20. While he was here he met with teachers, students, parents, and administrators to try to understand how our school functions.
Smyth asked groups of students what it was like to be a student at Prep and what their school day was like. He toured and observed.
Throughout the week, Smyth made two or three sample schedules that he presented to all of the teachers and the Board of Trustees on Friday, March 24.
Smyth will explore how each schedule will impact the school. He discussed the advantages and disadvantages of every schedule. The faculty will have the opportunity for feedback.
The school plans to make a decision about which schedule to adopt within the next 4-6 weeks. Mr. Upchurch said, "I am very excited about the possibilities that a new schedule will offer us to enhance the academic life of the school and make the student experience at Prep even better."
There will be scheduling software to create the students' and teachers' schedules, a process overseen each year by Ms. Sisk. Whatever changes end up being made, the new schedule will not be implemented until the 2018-2019 school year.