Jackson decks out in green for parade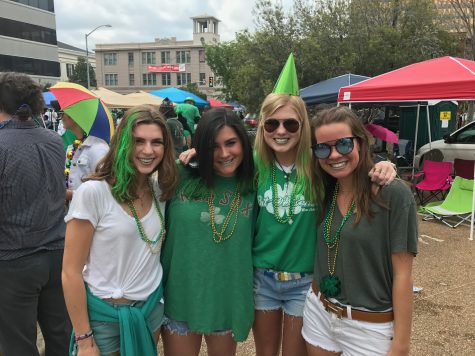 Beads and flowers littered the streets of Downtown Jackson on March 18th, 2017. Jacksonians dressed in green tutus, boas, and suits for the annual St. Patrick's Day Parade.
This time-honored tradition began in the early 1980s by Malcolm White, owner of Congress Street's beloved restaurant and brewery Hal and Mal's.  White wanted to express his love for spring, Mardi Gras, and St. Patrick's Day through this eccentric processional.
Today, the festival lives on as Hal's St. Paddy's Parade and Festival to honor  White's late brother and business partner.
The parade has grown astronomically since the first time White and his friends marched through Jackson. This year nearly fifty green floats entertained bystanders. The parade runs on a "first come, first serve" basis, so anyone is allowed to participate if they are willing to cover a flatbed trailer with glue and streamers.
For some people, the St. Paddy's Day Parade is as grandiose as tailgating. Hours before the parade starts, Mississippians from across the state gather to stake their parade space. Tents filled with food, drinks, and music crowd the sidewalks as people prepare for the spectacle.
The St. Paddy's Day Parade is fun for all ages. A 5K race takes place before the parade. In addition, there is a children's parade where every child is welcome to participate. After the parade, there is a music festival for adults on Commerce Street.
Senior Emily Clark says, "I wish I was little kid again because they only give the little kids the good beads."
Whether you are young or old, the St. Paddy's Day Parade has something for everyone.