Talent show takes audiences to "La La Land"
On April 8, Applause!, Prep's booster program for the arts, held its annual fundraiser, a variety-talent show. This year the talent show has its theme as "A Night in La La Land."
The talent show began at 6.  Laura Lee Lewis, Miss Mississippi 2016, was the master of ceremonies for the evening.  Cash awards were given to winners. There was a crowd favorite award, and audience members could pay $1.00 per vote for their favorite performance.
Tickets for a raffle to obtain a parking spot in front of the senior high were on sale a week prior to the talent show.  The parking spots are for the remainder of the school year.  The money raised is going support Applause and the arts.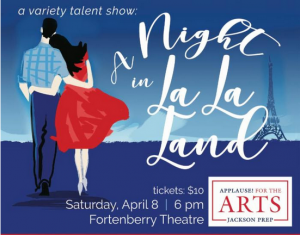 The junior high portion of the competition began with Walker Jay Patterson, ninth grader, singing "It Takes Two" from the Broadway musical Hairspray. Eight students showcased their talent in the junior high.  Jimmy Underwood, also a ninth grader, closed the competition part of the talent show for the junior high dedicating his performance of "She" by Elvis Costello to his mother, Stacy. Prep Tones performed as an exhibition.  Because Tori Johnston, eighth grader,  won the junior high portion of last year's talent show, she could not compete but made an appearance singing "Good Thing He Can't Read My Mind" by Christine Lavin.
After intermission, Charlsey Rowan, a junior, opened the senior high portion of the competition singing "Stay" by Sugarland. Seniors Hannah Plunkett and Lawson Marchetti ended the senior high portion of the talent show by singing a duet. A total of twenty high school students performed many talents from singing to reciting monologues to playing extravagant instruments.  Before awards, Capital, Prep's acapella group, performed, followed by Beth Ann Young, a junior who is the former senior high division talent show winner, sang "I'll Be Here" from the Broadway musical Ordinary Days. After Beth Ann performed, Laura Lee Lewis sang "Somebody to Love" by Queen. Finally, the raffle ticket winners were announced: Lawrence Coco, father of seventh grader Mary Robinson Coco, and Janet Porter, grandmother of junior Dakota Krauss.  Ms. Porter was nice enough to give the parking spot to Dakota.
The talent show this year had a great turnout.  Ms. Kim Porter, president of Applause!, and her team put on an outstanding show.