Spring play opens gateway to Narnia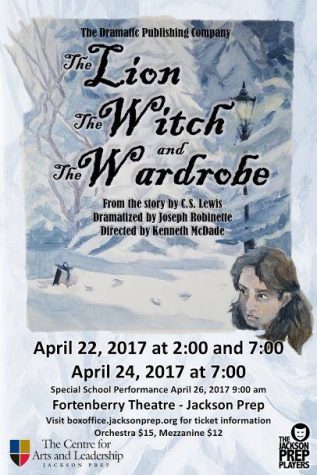 A cold breeze is blowing into the Jackson Prep theatre come April 22nd  and 24th. The Lion, the Witch, and the Wardrobe is the spring play being put on this year. Director Mr. Kenneth McDade and many students have been working hard to prepare the show for an eager audience.
Originally a beloved book, The Lion, the Witch, and the Wardrobe was written by C.S. Lewis. The book is about four children who go to live with professor Digory Kirke to escape the dangers of World War II. While at the house in the countryside, Lucy finds a wardrobe. Among entering the wardrobe, she is immersed in a land called Narnia. After showing her siblings, they all go to Narnia. The siblings have many adventures, as well as a few tasks they must overcome.
Tickets for the theatrical adaptation are available now. Go to boxoffice.jacksonprep.net to order. There will be two performances on Saturday, April 22nd at 2 pm and 7 pm. There will also be a performance Monday, April 24th at 7 pm. Tickets are between $12 and $15. Go out and support Jackson Prep arts by seeing this fabulous play.