Jicka on Jackson: These are a few of my favorite things

As my time at Prep comes to a close, so does my time in the capital city. I look forward to exploring the ins and outs of Tuscaloosa, but right now, I would like to recognize a few places that made me fall in love with Jackson.
E&L Barbeque, located on Bailey Avenue, is a self-described "no-frills barbecue joint serving down-home specialties like pulled pork, ribs & fried chicken" but to me has consistently held the title of best rib tips in Jackson. The building is unassuming, but on the walls inside are plastered pictures of their former TV commercials which included the same boy over the years, and you can see him grow up as your eyes scan the walls. The food is always served in a styrofoam to-go box; white bread constitutes napkins, and the sauce smothers both the meat and the fries.
Monroe's Donuts and Bakery, owned by Monroe Jackson, has four locations around the Jackson area, but my go-to is their original location on Highway 49. The store is easy to spot from the road with its orange and red color and large sign with Mr. Jackson's face in a doughnut. Legend has it that Jackson sued Krispy Kreme for allegedly copying his idea when they put faces on their doughnuts.
When Jackson started his business at that location where Medgar Evers Boulevard becomes Highway 49, he lived in the apartment above the bakery. He worked hard and eventually opened more bakeries, the latest located on Rice Road in Ridgeland. He also entered Jackson politics as he ran for mayor this year, further showing his love for the city. If his policies are anything like his apple fritters, I'm sure he'll be a great politician. If you want to stop by for some doughnuts or cinnamon twists one Saturday, I recommend going in the morning because everything is gone by late afternoon.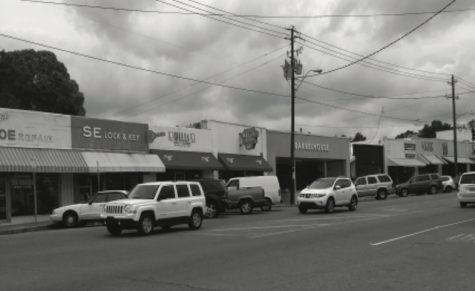 We owe a lot of the revitalization in Fondren to Mississippian, Tate Taylor, director of the movie The Help, based on the book written by Prep alum Kathryn Stockett, but what the set crews provided in aesthetic revitalization, Chane brought to life.
The man Chane is a bit of an enigma; he rarely goes by his first name, Ron. He is the owner of the Swell-o-phonic and Wilai stores in Fondren, as well as one of the initiators of Fondren First Thursday.  It is rumored that he started the trend of pothole gardens within Jackson, a lighthearted approach to highlighting the problem. Wherever he goes, his squad of Australian cattle dogs follows. He has lived in Fondren for over 25 years after moving back from Brooklyn, New York.
This list would not be complete without Bill's Greek Tavern. While no longer in business, Bill's was a Northside tradition since before I was born. Bill Matheos opened his restaurant more than 30 years ago, serving large portions of fresh redfish, scallops, and shrimp, all while yelling "God bless America!" to anyone who walked in the door. Mr. Matheos closed his restaurant due to his poor health in March. While the Mayflower can act as a substitute, it will never top the atmosphere of Bill's, where Willie Morris and Eudora Welty ate together regularly.