Prep, Hillcrest team up with Special Olympics
On September 6, Jackson Prep hosted a unified Special Olympics softball game against Hillcrest Christian School. Typically, major colleges would host Special Olympics games for sports such as football and basketball, but Jackson Prep is among the first high schools in the country to host a Special Olympics game in any sport. Jackson Prep has been raising money for the Special Olympics through donations; this year, anyone could volunteer to pledge a certain amount per hit, which totaled at 39 including the hits made in the softball game that followed.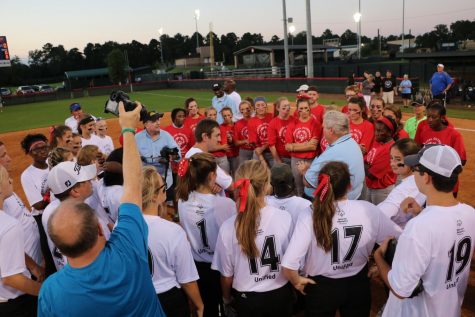 With five Special Olympics athletes on both teams, each Jackson Prep girl and Hillcrest girl had a new teammate to share her position with. The field was decorated with custom signs, painted by the players themselves, encouraging all the players from both teams to play their hardest while having fun for a good cause.
"
When we played the practice game this summer, the girls were so excited. The girls are in love with all of them, and we've found a new perspective on this game we take for granted."
— Cory Caton, Head Coach
The head coach of the Jackson Prep softball team, Cory Caton, led the team to a victory of 9-8. Coach Caton hopes other schools will follow in Prep's path and host Special Olympics game as well.