Prep rolls past New Hope 45-28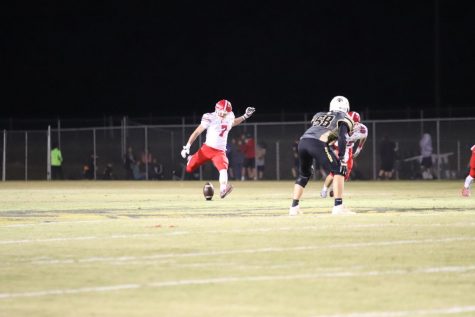 Columbus, MS.– The Jackson Prep Patriots defeated the New Hope Trojans last Friday by a score of 45-28 in a week ten non-conference matchup.
In the first half, Prep raced out to a commanding 21-0 lead by the second quarter. With momentum on their side, the Patriots went to the locker room at halftime up 31-14. At one point during the third quarter, New Hope had clawed back from a three touchdown deficit making the game 31-28 in favor of Prep. Prep then went on to score 14 unanswered points on back-to-back scoring drives while shutting out the Trojans to win the game.
Among many stars of the game, quarterback Chance Lovertich had another stellar night, as he threw for 230 yards and four touchdowns. Wideout Jake Maloney caught four passes for 106 yards and three touchdowns, making this two weeks in a row with multiple touchdowns. To nobody's surprise, running back Jerrion Ealy accounted for 217 yards of total offense and 3 touchdowns. Prep's defense played a big role in the win, as defensive back Wilson Mink added two interceptions to their efforts.
Prep looks to finish the regular season undefeated this Friday at home against Parklane Academy.