Pink's new album is anything but traumatic
Pink released her new album Beautiful Trauma on October 13. This was her first album to release since 2012.  In July, she announced via twitter that she was working on a new album and gave her fans a sneak peek by leaking "What About Us" which became an instant chart topper on Spotify and on iTunes in August.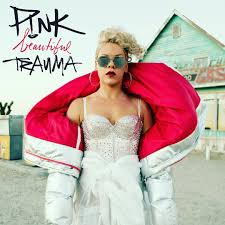 Beautiful Trauma consists of thirteen songs, the most popular songs being "Revenge" and "Beautiful Trauma."  In "Revenge," Pink collaborates with Eminem because she has always wanted a rap Grammy.  
Pink will begin her tour to share the new album on March 1, 2018 in Phoenix, Arizona and will end the tour in Auckland, New Zealand. Two weeks into her tour around the United States, Pink plans on making her way into Canada for four concerts and will return back to Detroit to continue the United States tour.   
Pink was not the only artist to change her music style in her newest album. Lady Gaga, Katy Perry, Miley Cyrus, and Taylor Swift all created new music which allowed them to be themselves. Pink definitely did not miss the mark of showing the world who she truly is.  She is a savage.
Honestly, we love her whole album, but our favorite songs are "Better Life," "But We Lost It," and "I Am Here."  "Better Life" and "I Am Here" are both upbeat songs, but Pink decided to slow it down with "But We Lost It." We feel these songs need love because they represent the different stages of her life. "Better Life" reminds us of her old music which we loved.  "I Am Here" takes a different route, but it does this in a good way.  In "But We Lost It," Pink allows herself to come clean with her emotions.  
Overall, we highly recommend that everyone to listen to Pink's new jams if he or she has not done so already.