An Evening with Dawes
Dawes, an American folk rock band from Los Angeles, California, made their Jackson debut at Duling Hall on Tuesday, October 24th. Dawes has been touring with Kings of Leon on their fall North American tour while they have also been on an individual toured called An Evening With Dawes.
Dawes band consist of brothers, Taylor Goldsmith who is on guitar and vocals, "the front man", and Griffin Goldsmith on drums. On the bass is Wylie Gelber and on keys is Lee Pardini. Trevor Menear has been a new addition to Dawes. He is a guest guitarist who joined Dawes for their We're All Gonna Die tour.
Instead of the band just playing one set, they broke it into two sets. They began their show at eight which ended up being a three-hour, twenty- four song show that finished around eleven. They began with "Quitter" from their new album We're All Gonna Die that followed with "Fire Away" from Nothing is Wrong. In their song," Now That It's Too Late, Maria,"  it is more of a laid back song with the smooth solo riffs given by Menear compared to "When My Time Comes," when there was a strong presence of Gelber on bass, along with the whole crowd singing. Throughout the night the guitar was a commanding factor to their performance.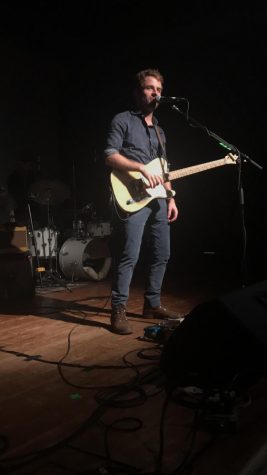 Shortly after closing set one and their break, both Goldsmith brothers, Pardini, and Menear came back on the stage to begin their second set. Instead of starting this set with a strong focus around the guitar, the strayed more over to the  acoustic side of things with songs like "Still Feel Like a Kid" and "Roll Tide." You could tell that their was some anti-bama fans based off the mumbles from the crowd when "Roll Tide" played, but in the end it was all out of good fun.
The acoustic portion of the set ended after those two songs and the guitar based songs began to come back into focus. When Goldsmith, vocalist, started to play "When The Tequila Runs Out" the whole crowd started to yell.
The night finally came to an end closing with "All Your Favorite Bands" which is an absolute crowd favorite. At one point vocalist, Goldsmith stopped playing and singing and let only the crowd sing the chorus. It was great to see Goldsmith's reaction to the whole crowd singing his song.
After the twenty-four song performance the crowd still chanted for more, but they had to let Dawes end their "Evening With Dawes." The intimate venue of Duling Hall definitely highlighted main aspects for Dawes like Menear on guitar and Gelber on bass. The acoustics of the venue mixed perfectly with Dawes, it was not overpowering, and it was not by any chance underwhelming. Goldsmith and the rest of his band seemed like they enjoyed the time they shared with the crowd. Vocalist Goldsmith said, "music is really the only thing that can truly connect everyone" and I feel that was a great quote to end the night with.