No arguing this: Speech and Debate is lots of work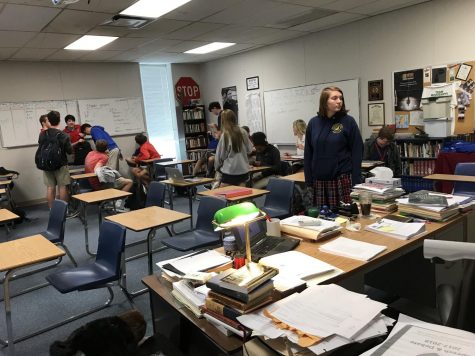 Arguing for sport may seem simple to some, but travel with Jackson Prep's Speech and Debate team for a competition one weekend and you might feel differently.
The team began their season in September and will continue into April, and possibly June. The team is sponsored by Mr. Richard Younce and consists of 25 active members, with 19 in the third period class. The group is prepared to continue steady on their success path for the 28th season.
Just like any other co-curricular activity, team membership requires an abundance of after school and in-school hours of research, writing, and practice. Some take the class and do most of their work then, some work before and after school, and others do both. How much each student competes according to individual schedule. During practice, students do mock rounds against debate and critique each other's literary interpretations. Students will practice their arguments or speech events for weeks previous to the competition, and fine tune it as the season goes on and they gain more experience.
Mr. Younce has been helping speech and debate on and off since 1994. Currently, he teaches English to 9th and 10th graders. A 1985 Prep alumnus, Mr. Younce first chaperoned (but did not coach) the debate team from 1994-2012.
In 2013 he came back to Prep as the overall coach for the team. He mentioned that the help of the strong captains has been vital to the success of the team.
His favorite part about coaching the team is seeing students use knowledge they learn in others areas of school (such as research, speaking, presentation, etc.) all come together in speech and debate. Mr. Younce has a collection of over 15,000 books and a love for Batman, but his students know he is extremely devoted to his work and spends countless hours at Prep every day before and after school.
Speech and Debate competitions are unlike any other sport. Although the schedule is not consistent, the team usually goes to about 2 competitions per month, travelling to places Louisiana, Texas, Alabama, Tennessee, and across Mississippi to compete. They spend the weekend competing in countless rounds of Debate and performances at tournaments.
First year competitors operate in a "novice" level is available, and students in their second or later year, compete in the "varsity" category.
At every tournament, there are two divisions: the Speech half and the Debate half. Each section contains different categories for  students to compete in.
In Debate, students are told which side they are on, alternative or negative just before they walk in the room, and will have argued both multiple times by the time the competition is over.
Mr. Younce compared a competition to a track meet with many different rounds of different events all going on at the same time so each competitor goes back and forth multiple times among different events.
Since its beginning, the Prep Speech and Debate team has always competed in the debate portion of the competitions, including the one-on-one Lincoln Douglas Debate, the team oriented Public Forum Debate, Policy Debate, and Congressional Debate. Each form has different requirements that differentiate them.
The speech portion of the tournament is different from what people expect, focusing in  on literary interpretation and acting performances.in the past few years, the team have heavily increased its participation in the performance-oriented "interpretive events" of Poetry Interpretation, Prose Interpretation, Impromptu, Duo Acting, Original Oratory, Dramatic Interpretation, Humorous Interpretation, Informative Speaking, etc.
So far this year, Prep's team has been extremely successful at every competition and many Prep students have advanced to semi or final rounds.
So far this season, freshman Selby Ireland has won Lincoln Douglas Debate at the Saint's Speech & Debate Classic and finished second at the Warrior Invitational all in his first year of competing. Sophomore Spencer Byrd won second against Ireland at the Saint's Classic. The Speech and Debate team is prepared to keep on a steady rate of success this season. Including a rare single school find in Novice Lincoln Douglas Debate at the St. Andrew's Saints' Classic in which Freshman Selby Ireland took on Sophomore Spencer Byrd.