Thor and Hulk team up for a ragnarokin' good time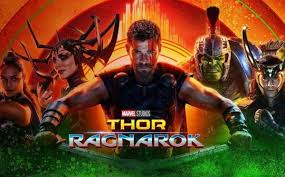 On Friday, November 3, Marvel released Thor: Ragnarok, earning $115 million on opening weekend.  The movie had a highly-billed cast with Chris Hemsworth, Tom Hiddleston, Mark Ruffalo, and Idris Elba returning to their respective roles in the Marvel Universe, and new actors Cate Blanchett, Tessa Thompson, Karl Urban, and Jeff Goldblum.  The movie also had the signature cameo of Stan Lee and an unexpected cameo of director Taika Waititi.
Thor: Ragnarok is set around the same time as Captain America: Civil War, which explains why Thor and the Hulk were absent from that movie.  The main goal of the movie is to prevent Thor's home, Asgard, from "Ragnarok"–the destruction of Asgard.  At the beginning of the movie, Thor explains that he has been having dreams of Asgard being destroyed and confronts Surtur, the one who, in his dreams, is responsible for the destruction.  Thor defeats Surtur and believes that he has prevented Ragnarok from occurring, only to run into more problems.  He learns that Odin, his father and king of Asgard, is no longer king and that his brother, Loki, is alive.  He also finds out that he did not prevent the destruction of Asgar because of Hela, Thor's and Loki's older sister that they never knew existed, who has come to destroy Asgard herself.
One of the things I really liked about this movie was Korg, the character used for Taika Waititi's cameo.  He was there for comedic relief, and that goal was well achieved the first time Korg was introduced.  Along with the cameos, there were other opportunities that Marvel took to make the audience laugh, and they were all successes.  I strongly recommend this movie if you haven't seen it yet.