New things are brewing in Brandon
Brandon, Mississippi, might not sound like it has much to offer residents. However, in the heart of downtown, just up the road from the city jail and across the street from one of the several "bail bonds," you will find a row of developing shops. Among those shops is East Brandon Coffee Factory, or EBCF for short.
EBCF, a relatively new coffee shop, has been open for less than a year. This family-owned business has been a great addition to the community. They offer  a variety of coffee choices, from frappuccinos to herbal tea.
Being in the Christmas spirit, my sister, Sara Michael, and I bundled up and rode our bikes down the street to enjoy a cup of coffee. EBCF  had a variety of holiday flavors, including brown sugar cinnamon, lavender vanilla, and peppermint. I chose to get the Peppermint Mocha Latte while Sara Michael decided on a classic, plain-brewed cup of coffee.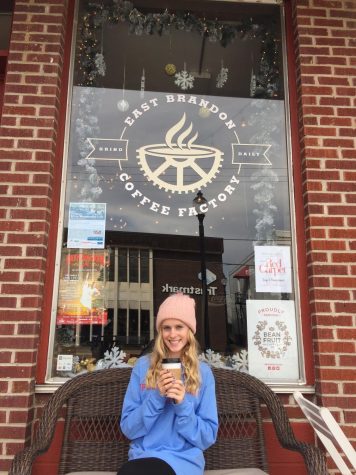 After getting our drinks, my sister and I took a window seat that had a great view of Downtown Brandon. The coffee shop also offers outdoor seating, giving customers that perfect small town feel. Although the shop is rather small, it is a great place to study.
I personally love all things peppermint, so I give their latte a thumbs up. It wasn't too sweet or too minty, and it was a perfect creamy blend of the two. Some coffee shops make their coffee at what feels like 200 degrees, but EBCF managed to get it at the perfect drinkable temperature.
If you're more old school and like your coffee dark, Sara Michael described her cup of black coffee as having a very "strong and tangy" flavor. EBCF also offers Nitrogen coffee, which has about four times the amount of caffeine as a regular cup of coffee. It can served plain, with skim milk, or over ice.
EBCF sells scones, muffins, and sandwiches that come straight from Sugar Magnolia. Some say that a stand alone Sugar Magnolia will be opening in Brandon soon. Overall, I would definitely recommend making a trip to Brandon to get  a cup of coffee.