Stoop Kids bring a taste of New Orleans to Jackson
Stoop Kids, a New Orleans based band, played at Duling Hall on January 26. Opening for them was Little Strange, a two-man duo, who originated in Philadelphia, Pennsylvania.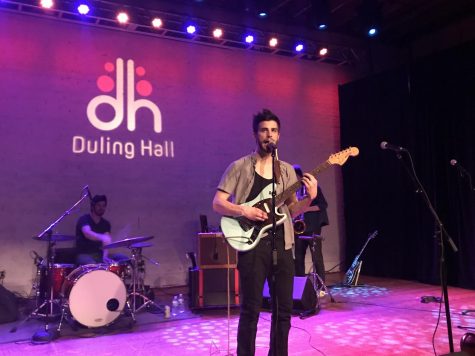 Isabelle McLeod and I went to this concert on a Friday. We had no clue what to expect from both of these bands because we had never heard of them. We listened to a little of Stoop Kids' music before the concert, but we decided to let the music of Little Strange, the opener, be a surprise to us. When we arrived, there was a small crowd of maybe ten people, and when the show finally started, the number upped to about fifteen or twenty people. Having that small of crowd was probably the best thing that could have happened because based on how both bands performed, listeners would have wanted to have been up close to them.
Little Strange came out to the stage with just a computer, guitar, and two mics. They started off the concert with "Girl III",  and to my surprise, they ended up being a hip/hop duo that mixed guitar and techno together. At first, I didn't really know how to feel about them, but after they played a cover of the song "Clint Eastwood" by the Gorillaz, I decided that I could definitely dig them.
As Little Strange came to a close, John Shields explained the meaning to one of their top hits, "Me & You". He explains how the band was originally a five man band, but over the years only John and Kevin Shields "stuck it out." This song basically goes through how it is just me and you, which in this case refers to both the Shields. If I were asked if I would see this band again there in no doubt in my mind that I'd say "yes." Between John's skill of mixing both tracks and guitar together along with Kevin's "in your face" rapping they blended to make the combination of both strange and tasteful music.
When the Stoop Kids hit the stage they sent off a "hip" vibe. This band was a mixture of not only jazz, but also hip-hop, and rap. When I listened to the band before the show I expected for lead singer Griffin Dean to rap a lot, but to my surprise, he only rapped for maybe one or two songs. The lyrics flowed smoothly when it transitioned from singing to rapping.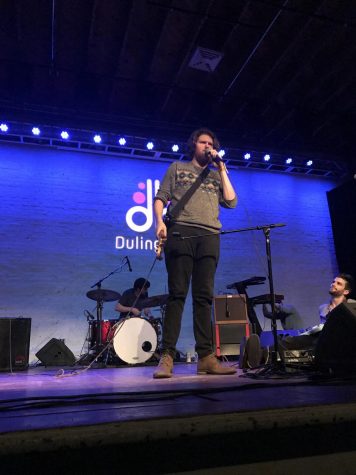 They opened with "Quit You," which reminded me a little bit of Matchbox Twenty lead singer Rob Thomas, in the singing aspect. Not only were there songs entertaining, the band itself was a show. Frontman Griffin Dean acted out everything with either his hands or facial expressions. Then while Thomas Eisenhood was playing the Baritone Saxophone you could see Griffin Dean and bassest Sam Freud having a "instrument battle" with one another. The Stoop Kids then slow it down to a gentler version of "17:35", which I prefered much more than the originally sped up one. Dean held his pitches out longer and had a more softer annunciation of the words versus the original sharp annunciation of each word. The Stoop Kids then play a song that is not yet released to the public, "Wanted You". As of now they are just playing this song on their tour.
Dean had a remarkably pitch range where he could sail his voice up to super high pitches. I feel like I have become close friends with Stoop Kids thanks to bassiest Freud. He told us what his favorite food was, which in this case is chicken wings and talked to us about his love life. The Stoop Kids finally play Padiddle, which is the song I was most looking forward to. All-and-all it is just a really pretty song to me. It has a George Ezra vibe to it, which I find very appealing.
If you were to asked me if I would see these bands again I would say "yes" every time. This was by far the –I don't want to say weirdest–but most "out there" concert I have ever been to. This in no way detracts from the originality of Dean's rapping style and, without any doubt ,you can tell where there roots are from…New Orleans.
If you are looking for some fun, feel good music I one hundred percent encourage you to listen to Little Strange and Stoop Kids. It was by far one of my better choices of a band to go and see.