Prep students set sail on a new voyage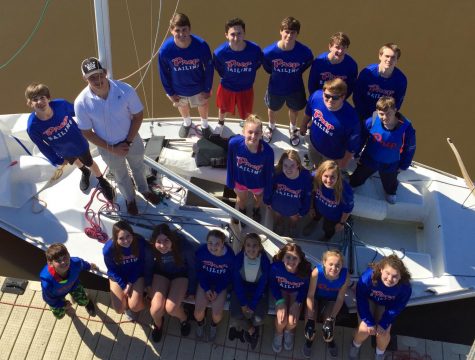 Prep added an outdoors activity this past winter for students to enjoy – sailing. The Sailing Club is focused on giving students the chance to sail, something that most kids would never be able to do. Over the past three months, students have learned many skills necessary for sailing, some include: hoisting sails, judging wind direction, and maintaining control of the boat during choppy weather. The sailing club meets at the Ross Barnett Reservoir to gain knowledge and skills, while also enjoying their time out on the water.
Junior Reece Davis finds that his favorite part consists of hanging out on the Reservoir with some of his good friends while learning how to sail. "I thoroughly enjoy learning the ins-and-outs of sailing while on the Rez, and nothing beats some time out on the water after a long day of school," said Davis. Trey Currie and Mitchell Martin have been instrumental in the club's development. They both have a passion for sailing, and with the help of their parents, they now have the opportunity to share this passion with their peers. Trey's father helps with practices by giving the students a game plan for the day, and Mitchell's mother, alongside Mitchell and Trey, helps teach sailing basics  and safety to participants in order for everyone to have a lot of safe fun. Trey Currie said, "I have always had a passion for sailing, and it's something not many people can relate too. Now, with Prep having their very own sailing team, I can enjoy my passion with friends, and also spread it." If sailing around the Reservoir after a long day of school sounds like fun, you may want to consider joining the sailing club. If you are interested in joining, contact Trey Currie – [email protected] – for more information.