Food delivery apps are changing the game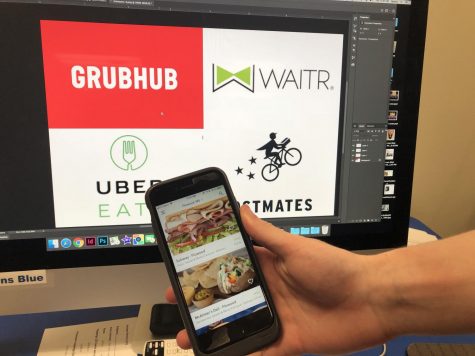 Our world is evolving rapidly and technology is changing the way we live. This can be seen through the way we eat food nowadays. The old methods of going and picking up your food on your own is changing with the development of new food delivery apps such as Waitr, UberEats, Postmates, and Grubhub. Waitr, in particular, has been heavily promoted in the Jackson area since its recent introduction.
In the past few years new apps have been developed that will let you order food from a variety of different restaurants, and deliver it to your front door. Personally I had heard about apps such as these, but until recently they were not available around me. My aunt lives in LA and she had always raved to my mother about not having to go to the grocery store because Postmates brought her groceries to her, and within the last six months the same services have been opened up to our area. Apps like Uber and Lyft paved the way for this sort of industry.
As of right now there are mainly two different types of food delivery apps. One type lets you order from restaurants and brings the food to you, and the other delivers your groceries to you. Many of these apps are relatively the same, with each having a separate feature or two that differentiates it from the others.
These food delivery apps are very user friendly. Some of them require a membership, and some do not depending on which you pick. There is a variety of restaurants to choose from, and it is easy to make a selection and order it. The only downfall to the system is that most of the time it will take about an hour for the meal to arrive at your desired location, but when you think about the logistics of the process it is actually a fairly reasonable amount of time.
Although this new service is seen as great by many, it is still a work in progress. From reading reviews on specifically Waitr it seems that for the most part customers are satisfied with their experience, but people that actually work for these companies still think that it needs more development. As with any restaurant there is always two sides to the story: the customer's and the worker's. Opinions of the drivers are very scattered. Some love their job, while others think it needs much more work. The cons that most all of the worker's reviews mention is the toll it takes on their car, the fact that the company does not cover the mileage, and that the management is not very in touch with the staff. Because many of the companies are very new it makes since that they have a few things to work on.
New technology has made it possible for food to be brought right to our doorsteps. Getting food from your favorite restaurants brought to your house is something that everyone loves. Food delivery apps make this extremely easy and convenient for us all. We can't wait to see what is next.