MOVIE REVIEW: Ocean's 8 is light summer fun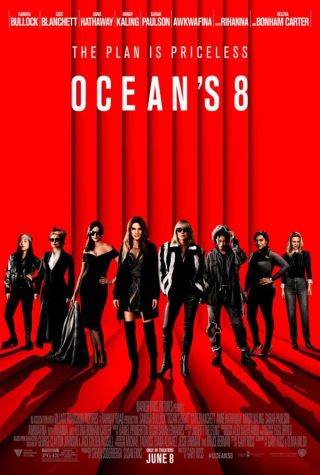 Debbie Ocean, having just been released from her five year eight month and twelve day prison sentence, has had plenty of time to plan one of the biggest jewelry heists in history. Accompanied by a team of seven women, each bringing their own skills to the table, they attempt to steal a necklace worth $150 million.
Ocean's 8 is composed of seven women, with Debbie Ocean being the leader and mastermind behind the operation. Although this power team was purposely composed of all women, it does not feel like director Gary Ross is shoving a huge feminist political statement in the viewer's face. It was enjoyable watching a group of smart witty women pull off such a big stunt.
Every character has their skill that contributed to the scheme. Debbie Ocean (played by Sandra Bullock) is the leader and the mastermind behind the entire plan. Debbie and her longtime friend, and partner in crime, Lou, played by Cate Blanchett, recruit a team to help complete the mission.
Nine Ball, played by Rihanna, is the team's hacker. Awkwafina playa the character Constance, who is quick with her hands and can pickpocket anyone. Helena Bonham Carter plays the role of Rose Weil, a fashion designer that is going to get the necklace to the Met Gala. Amita, played by Mindy Kaling, is the team's jewelry maker. Tammy, played by Sarah Paulson, gets hired by Vogue to help plan the Met Gala, and she is their inside access. Each actor did an amazing job playing their character.  
Although the movie is only slightly suspenseful, and the overall plot was predictable, it is still a fun movie. It's fun to watch and wonder how the crew is going to pull of each step of their plan. Overall I definitely recommend seeing Ocean's 8.