Ricky Black named high school coach of the year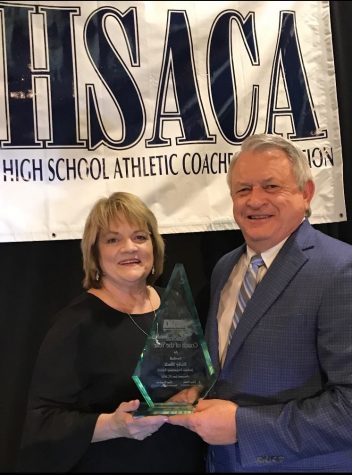 On Wednesday, June 27th, long time Jackson Prep head football coach Ricky Black was named Coach of the Year by the National High School Coaches Association.
Coach Black was selected from eight other high school coaches from around the country. He is the first Jackson Prep head coach and second Mississippian to win this award.
In 37 seasons as a head coach, Black's teams at Kosciusko, Tupelo and Prep have a record of 371-74. In 21 seasons at Jackson Prep, Black has won 243 games and 10 Mississippi Association of Independent Schools state championships.
In the past 6 seasons, he has put together an impressive 77-5 record in addition to winning 6 consecutive state titles, a Mississippi high school record. Thomas Thornton, a current senior at Jackson Prep, has had the honor of playing for Coach Black for three seasons. In an interview with Thomas, he mentioned, "What is so impressive with the 6 consecutive state titles is the kind of teams he pulled it off with. We haven't always been the most talented group of guys in our league, but we have been the hardest playing team every year, and that starts with Coach Black. Players buy in to what he tells them to do and he turns potential into greatness better than anyone else can at the high school level."
Thomas Thornton later added that what makes coach Black so unique is that he genuinely cares about his players, on and off the field. "Coach Black really cares about his players and it shows. If you play another sport, he will show up to your games. He is always checking your grades and making sure you are excelling in the classroom. He has been around the sport for so long and knows so much. It has truly been an honor to play for such an amazing coach and person, and I look forward to having one more year with him." said Thornton. Coach Black is also known for increasing his players football IQ and general knowledge. In a 2017 pre-season interview with 16 WAPT, star running-back Jerrion Ealy made a comment that Coach Black gave him a lesson during their short car ride about why the interstate system was developed. Thomas Thornton also added that Coach Black is wonderful with taking complicated things and simplifying them in order to maximize efficiency during practice.
Javon Magee, a current junior who plays running back, believes Coach Black is truly one of a kind. He went on to say that Black is like a four-leaf clover or a unicorn, because it's not every day that you find a coach that is always pushing you to be the best human being and football player you can be. Magee said, "the reason Coach Black walks around with a ring for every finger is because he believes in doing the small things right. He believes that character wins championships."
Athletic Director Will Crosby spoke for the entire Jackson Prep community when he said, "What a well deserved honor for Coach Black. We are so proud of Coach Black and the Prep Family is excited for the rest of the country to know what we've known for years: the Ricky Black is one of the best to ever coach the game." Head of School Lawrence Coco added, "What an amazing honor for Coach Black. Jackson Prep is lucky to have his leadership and dedication to student athletes for these past 20 years. We could not be more proud."
There will be a reception honoring coach Black in the Jackson Prep Centre for Arts and Leadership on Sunday, August 12th. Students, staff and all Prep families are welcome and encouraged to attend.
The football program is currently gearing up for their 7th straight championship run and who better to have at the helm than the national high school coach of the year. Congratulations, Coach Black!
~ Sports Editor Steven Wyatt also contributed to this story