REVIEW: Ariana Grande's new album Sweetener leaves a sour taste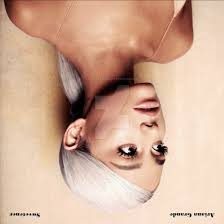 Ariana Grande released her fourth album, Sweetener, on August 17, 2018.  The album includes fifteen songs, two of which are already chart-toppers.  "No Tears Left to Cry" was leaked on April 20, 2018, and "God Is A Woman" was released on July 13, 2018.  She has three guest appearances featured on the album: Pharrell Williams, Missy Elliot, and Nicki Minaj. Grande announced on August 8th that she is launching a tour called The Sweetener Sessions. All of the songs are in lowercase except "God Is a Woman" and "R.E.M.", which is aesthetically pleasing.
What I have come to realize is that you either love Ariana Grande's new music or hate it. I am not the biggest fan. For instance, "Successful" reminded me of video game music.  To me, all of the songs sound basically the same. I feel like she missed her calling as a Cheetah Girl member. They are all somewhat slow but not slow enough to be a ballad. I guess if you are into that, you should give it shot, but I cannot relate. I actually could not even choose a favorite song on the album.
Although her album disappointed me, her carpool karaoke with James Corden is worth a listen.  She sounded really good in that, but that is because she sang some of her old stuff while ad-libbing.  Honestly, I was let down because I really like her old music. Don't get me wrong, I think she is extremely talented because her range amazes me and she has very impressive whistle tones. One of her previous hits "Dangerous Woman" was iconic, but overall, Sweetener was just an all-around miss for me.