Show Choir Masters takes center stage on campus
When show choir students return from Christmas break the air is full of anticipation for Jackson Prep's Show Choir Masters. This will be sixth the year that Prep has hosted this competition, as it began the year after the Fortenberry Theatre was built. Every January, schools from all around the South attend and compete for the biggest trophy and the bragging rights to go with it.
Show Choir Masters is hosted by Reveillon, Fusion, their director, Mitchell McGinnis, his assistant Temperance Jones, and the Applause! board. Proceeds from this event help in supporting the performing and visual arts at Prep. This year three junior high show choirs and fifteen high school show choirs will attend. Fusion will be performing Friday night, and Reveillon will be performing midway through the competition on Saturday night.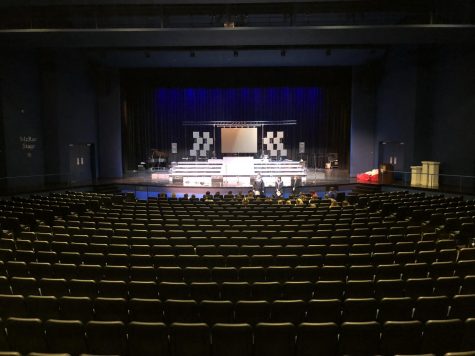 A great thing about the competition is that the whole student body can be involved. Those who are on the teams host the other show choirs and guide them around the Prep campus. Other students can use this weekend as a great opportunity to get in-school service hours. Parents are the biggest asset to the competition by helping Fusion, Reveillon and other show choirs check in and prepare to compete. Mac Mitchell and Robbie Hight have been a huge help to the Prep show choirs already and will be assisting all show choirs at the competition. Ms. Kathleen Mitchell, mother of two show choir members, shared that "As a parent, this is a great event to support because you are able to meet parents and students from all over. At Prep we are so fortunate to have the beautiful Fortenberry theater to share, and this is a great time to showcase our wonderful Prep hospitality!"
Fusion and Reveillon will be competing in Mississippi and Alabama. Reveillon will also travel to Chicago for their national competition. Both show choirs will wrap their season up with performances at Jackson Prep.