Students, teachers attend Memphis Grizzlies game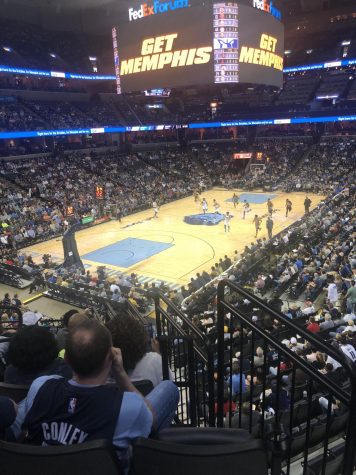 On Sunday, April 8, Mr. Donald Regan, who teaches engineering design, coding, and sports marketing at Prep, took a group of students to Memphis, Tennessee to watch the Memphis Grizzlies play the Dallas Mavericks.
The trip started out at ten o'clock that morning at Prep. All 14 people gathered in a van driven by basketball coach Tim Wise, and headed to Memphis.
After three hours, the group arrived at Steak 'n Shake in Southaven, Mississippi and enjoyed a nice lunch. After they finished lunch, they traveled to Bass Pro Shop at the Pyramid for a couple of hours. Then the group drove to Beale Street to watch the game at the FedexForum.
They arrived an hour before the game. Everyone got their tickets then went straight to the Grizzlies Den, the team store. The game started at five so the group got to watch the teams warm-up.
"Dirk Nowitzki played the first quarter and he will probably be in the Hall of Fame one day, so that was really cool to see him play," said ninth grader Worth Hewitt. "I'm glad I went and maybe there will be another trip like this next year. It was cool because it was my first NBA game."
The Grizzlies lost a tough one 129-127 in overtime after the Mavericks came back to tie the game in regulation and won the game in overtime.
The bus ride home was very nerve-racking. Coach Wise drove home in really bad weather. It was pouring down rain, thundering, and lightning. On top of that, the driver side windshield wiper was broken. They got back at twelve o'clock in the morning on Monday. It was a long but fun day.