District Debate: Sophomore Spanish Club vs. Poke Stop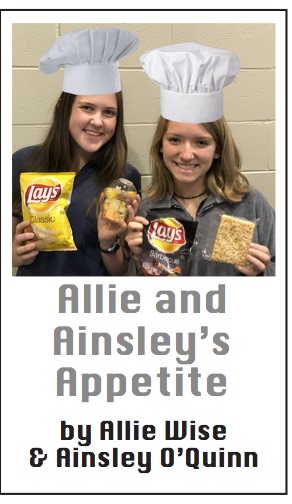 Hi, everyone, and welcome back to Allie and Ainsley's Appetite! To kick off this year we are going to do something a little different and compare two restaurants in the District at Eastover. 
The District has been rising in popularity with the opening of Cultivation Food Hall and many new stores. The most recent addition to the District is the restaurant Sophomore Spanish Club, which is the first restaurant we will be reviewing. Our second restaurant is Poké Stop located in Cultivation Food Hall.
Sophomore Spanish Club opened a few weeks ago in the location formerly occupied by Cantina Loredo. We loved the decor and ambiance of the restaurant because it reminded us of a restaurant in a big city. It has a very modern feel and a unique 90's school theme.
Now let's talk food. We loved everything we ordered. The "Don't Call it Cheese Dip" was delicious and didn't taste like a typical queso.
For our meal, we ordered Desperado tacos, Americana tacos, and a shrimp tostada.
The Americana tacos were an elevated version of a typical hard taco. The shell was so crispy and paired nicely with the fillings.
The Desperado tacos were delicious street style tacos with steak. The shrimp tostada consists of a small, flat, crispy tortilla topped with an avocado sauce, shrimp, and other tasty toppings like pickled red onions.
We also tried the churros which came with dulce de leche and chocolate sauce for dipping. The chocolate sauce had an odd consistency, but the dulce de leche was amazing.
The service wasn't great, but we will give them a break since they just opened. The prices are average for a more upscale Mexican restaurant, and you could definitely have a full meal for under $15. We loved everything we tried, except maybe the chocolate sauce, and the atmosphere made our experience even more enjoyable.
The second restaurant we visited was Poké Stop located in Cultivation Food Hall. Ainsley is a regular visitor of this restaurant. It is the only poké restaurant in Jackson.
In case you don't know what poké is and you're really confused right now, it is diced raw fish usually served over rice with toppings and sauce.
Starting off with location, Cultivation is a cool place to visit for a meal. It lacks a distinct ambiance because it shares the building with other restaurants, but the food is great.
We ordered the Skinny Surfer and the Lolo Chicken. With the poké bowls, you choose between white rice, brown rice, mixed greens, or a combination of two. You also select 2 proteins.
For our Skinny Surfer bowl, we chose a combo of brown rice and mixed greens with tuna and shrimp. The Lolo Chicken is a chicken teriyaki bowl with white rice topped with carrot sticks and crispy wontons.
Both of our meals were great. Sometimes Poke Stop does not give you enough sauce on your poke bowl which unfortunately was the case this time. The Lolo Chicken was delicious and filling.
Our biggest issue with Poké Stop is the price tag. The poké bowls are SO expensive at $15 without tax or tip. The Lolo Chicken is a little more affordable at $12 but  is still definitely overpriced. We think Poké Stop is a good option if you are craving something a little different and want to splurge.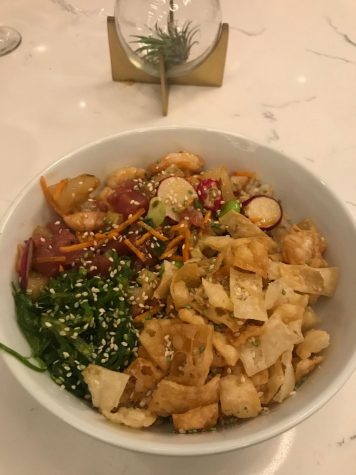 Our winner for this issue has to be Sophomore Spanish Club. The distinctive atmosphere and decor put it over the top. While the food at Poké Stop is really good, we liked Sophomore Spanish Club's food more. Sophomore Spanish Club is also more affordable, and you get more for your money.