Students hear that "freedom comes at a cost"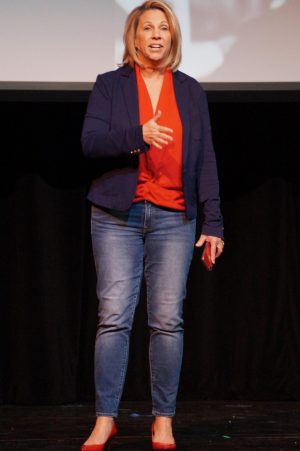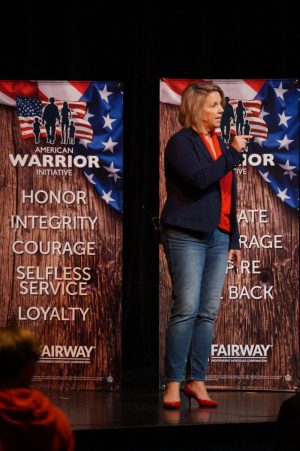 Ms. Karen Vaughn, the mother of a former navy seal, has traveled around the world for eight years sharing her powerful story. Jackson Prep's staff and students had the opportunity to hear her speak on October 23rd during a schoolwide forum. The minute she began talking, it became evident that Karen was a powerful speaker, with great passion in her voice. 
She told the story of her son, Aaron Carson Vaughn, who gave his life for our country almost nine years ago. Aaron, a strong Christian, always knew he wanted to be a Navy SEAL,  and that it was his purpose. He played football in high school and excelled greatly, scouted by many colleges early on. After suffering two ACL injuries, Aaron was told he would always be somewhat hadicapped. Fearing his lifelong dream was over for good, Aaron decided to pursue a career in tending golf courses for the time being.
But after 9/11, Aaron felt called again to join the Navy SEAL program and serve his country. He was one of the 7 out of 157 men to complete the SEAL Team one program, and then went on the SEAL IV, all while hiding his knee injury. But on August 6, 2011, Aaron, with 29 other American troops flying in a Chinook Chopper were shot down in the dead of night in Afghanistan. 
Karen described her shock after receiving the news, and this emotional element of her story greatly moved the audience. Aaron was buried in Arlington Cemetery in Washington, D.C., along with his team members.
After hearing Karen's story in the forum, students that read her book for One School Many Books over the summer had the opportunity to attend a lunch and ask her questions. Karen is the bestselling author of the book World Changer, where she uses Aaron's story to motivate Americans to find their purpose in this world and make the most out of the freedom given to them.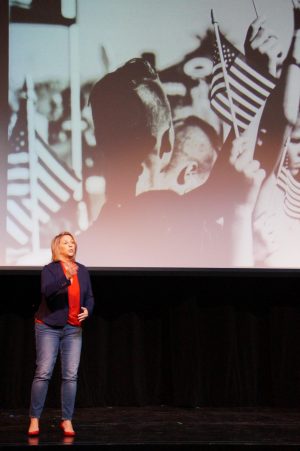 Tenth grader Wayne Hsieh, who attended the luncheon, shared his thoughts: "I enjoyed being able to actually get to talk to her. What inspired me the most was that her son did not give up, after all the setbacks he had."