Patriots outlast Pioneers 31-28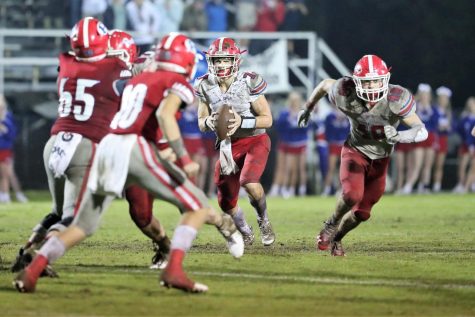 On October 25, the Jackson Prep Patriots made the drive down I-55 to play the Parklane Pioneers in Mccomb. This game was considered by many a trap game for the Patriots, due to the treacherous weather conditions that had left the already muddy grass field in puddles. Prep entered the game with a record of 7-2, fresh off of a loss at the hands of Madison-Ridgeland Academy. Parklane entered 6-3 but was considered a significant underdog.
Prep started the first quarter on offense and went right to work. On the first drive, the Patriots pushed the ball down the field with six running plays. Matt Jones scored the first touchdown of the game on a 19 yard run in the first quarter. The Pioneers came right back with their own running attack. Soon after, they scored on a 20-yard touchdown run, evening the score at 7-7. After a fruitless Jackson Prep drive, Parklane scored once again on a 52-yard touchdown run up the home sideline. However, the tides seemed to turn with an 89-yard kickoff return by junior Jeffrey Ince. Soon after, Thaxton Berch made a beautiful toe-tapping catch on the sideline for a 38 yard gain to move the Patriots near the endzone. Matt Jones quickly punched in a 2-yard touchdown run to end the half. The Patriots went into the locker room with a 21-14 lead and the momentum. 
The second half was a defensive struggle. The lone offensive highlight was a Pioneer touchdown to start the 4th quarter. On Parklane's final meaningful fourth-quarter drive, the Patriot defense stifled their opposition's running attack near the twenty-five-yard line. Despite being lined up for a game-winning field goal, the Parklane holder was unable to hold on to the snap. As the Patriot defense marched off the field, both squads prepared for a possible overtime period. Prep got the ball on the ten-yard line in overtime. The offense left the field after Matt Jones snuck out of the backfield for a touchdown pass from Riley Maddox. However, Parklane scored a passing touchdown of their own, leading to a second overtime period. With the ball once again in Parklane's hands, the Patriot defense made a terrific stand to force a field goal. Under immense pressure, the Pioneer kicker botched the kicking attempt, giving Prep a golden opportunity. Thankfully, sophomore Louie Gatlin nailed a game-winning field goal end the hard-fought slugfest.
After a short on-field celebration, the Patriots loaded onto buses and headed back to Flowood. Preparation now begins for an important upcoming matchup against Presbyterian Christian Academy. The game will mark the end of the regular season. Come see the Patriots face-off against the Bobcats at Patriot Field on November 1.