Movie Review: "Bombshell" tells a story of the #MeToo Era
Bombshell, the movie based on the true story of former Fox anchor Gretchen Carlson (played by Nicole Kidman) trying to take down one of the most powerful men in cable television, Roger Ailes (played by John Lithgow), details daily life at Fox News working under an accused sexual assaulter.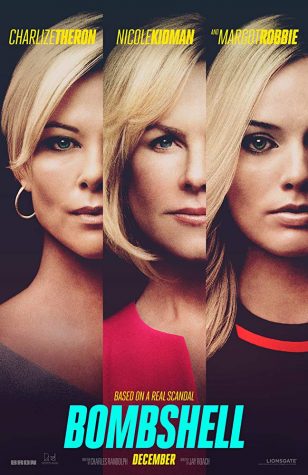 The movie begins with Megyn Kelly (played by Charlize Theron), the former host of The Kelly File on Fox News, narrating what it was like to work at the network and under Ailes. Ailes controlled everything that happened on the shows. He monitored the channel and made sure that everything was running smoothly—fixing chyron typos, controlling the news cycle narrative, and making sure that the women looked good to the viewers.
Kelly and Ailes had a good working relationship, and Ailes provided Kelly with high security and protected her after she got into a feud with then presidential candidate Donald Trump over debate questions. 
However, Ailes did not treat women like that all the time. Kayla Popisil (played by Margot Robbie) goes to Ailes's office to ask for a promotion, where Ailes creepily makes her twirl and pull up her skirt. It is implied that Ailes tries to assault her later in the film. 
Chaos ensues at the network after Carlson files a lawsuit against Ailes for firing her for refusing his sexual advances. Megyn Kelly tries navigating the new Fox landscape, while trying to avoid the Ailes controversy and hiding an experience of her own.
While, it is important to remember that there were some exaggerations in the film and that it was only based on a true story, the movie effectively displays the grip of a powerful man, Roger Ailes, on so many women in a work environment. Megyn Kelly has pointed out some of the inaccuracies in the film, but she agrees that the main storyline is consistent with what really happened. Ailes's eventual downfall at Fox News was the first, but definitely not the last. Bombshell documents the beginning of the #MeToo era and the first of many powerful executives being held accountable.