A Day in the Life of Division One NCAA athlete Morgan Claire Rose
A "runner's high" is a feeling of exhilaration that rushes through an athlete's body after finishing an arduous workout. Morgan Claire Rose, an Ole Miss runner, gets to experience that feeling almost daily.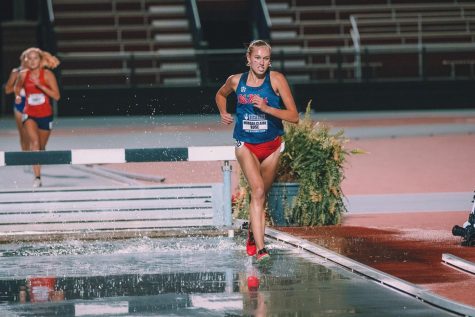 Morgan Claire grew up watching her father, Chuck Rose, compete in numerous triathlons, and seeing him wake up for grueling morning runs seemed natural to her. Morgan Claire started participating in fun runs and triathlons alongside her dad, which began her running journey.
After Morgan Claire picked up racing, she got into cross country. Located in Grenada, Kirk Academy didn't have a team, so her father started one. The team was established when Morgan Claire was in 7th grade and is now part of the Mississippi Association of Independent Schools and even holds its own invitational during the season. 
"It's no doubt that running is not a kids' favorite sport, but I wanted to try my best in what I loved," said Morgan Claire. "Determination started at a young age, and I soon became hungry for more."
Morgan Claire achieved so much while she was in high school. Before graduating in 2018, she was a 5 state champion in cross country, held 3 MAIS state records, made the all south team for FootLocker, and won 15 individual state championship races in track.
Morgan Claire never thought she would run in college when she was younger. "I started getting a letter from colleges when I was in 10th grade. The next year I started getting calls from recruiters, and I let it come to me."
When she had to choose where to run in college, she said she felt a connection at Ole Miss. "I saw how Coach Vanhoy grew the track and cross country program, and every year the team got better. He could turn average runners into great ones." She also said that she enjoyed that the university was only an hour from home, and she felt she clicked well with the team when she toured.
Even though cross country and track both involve running, they're entirely different. Training for cross country focuses more on endurance, while track still requires endurance for distance events but needs speed as well. Morgan Claire says she likes track season the most as there is more buzz and excitement in the stadium with all different types of events going on at once. In track, Morgan Claire runs the 1500 and the 3k steeplechase. She only picked up steeplechase last year, but it soon became her favorite event. 
Practices for a Division 1 runner are far more intense than those for a high schooler. During Morgan Claire's junior and senior years of high school, she was running between 40 to 45 miles a week, but now she runs 60 to 65 miles weekly. The sport has more to it than running, as the athletes cross-train and have weight sessions twice a week. With the quick turnaround between seasons, runners only have two weeks of offseason before starting summer training. 
A day in the life of a D1 athlete is a busy one, as Morgan Claire starts off her day by waking up at 6 a.m. Depending on the day, practice will vary from a track workout, tempo run, or something the coach decides on. After wrapping up her morning run, she heads to class until the afternoon. Because Morgan Claire has the advantage of being close to home,  she can drive home for lunch. When she drives back to school, it's time to cross-train by either biking or swimming. Once Morgan Claire finishes her cross- training, it is time to hit the weights. The day ends with grabbing dinner with the team and getting to bed early.
Being a D1 athlete has its highs and lows. One of the best and most popular perks is gear day. "There's so much stuff, and when my shoes get worn down, I can always get a new pair fast." 
Morgan Claire explains that being a D1 athlete is like having a full-time job since she's always busy. "The team isn't going out every night and partying because the sport needs your undivided attention." With practice and schoolwork, athletes don't have time to get the normal college experience, as the sport takes sacrifice but can be very rewarding.
If the opportunity presents itself, Morgan Claire said she would want to go pro after graduating from Ole Miss. If it doesn't work out, then she'll pursue med school. At the moment, Morgan Claire is soaking up the rest of her sophomore year and enjoying the 2020 track season. She's looking forward to competing at the Bryan Clay Invitational in Azusa, California, because of how much fun it was last year.
For anyone who dreams of being a D1 athlete or wants to run in college, Morgan Claire has this advice: "My dad always told me to go by the 3 D's: Determination, Dedication, and Discipline. This sport pushes you to your limits, but it'll be worth it when you get to reap the rewards of your hard work."