Talking Heads, still talking 45 years later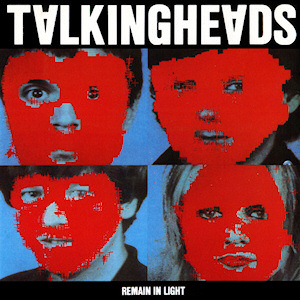 These days, I don't have enough time to keep up with Saturday Night Live like I used to. It's usually set to record on our T.V. anyways, so whenever I have time, I check and see if its any good and if the musical guest is worth any time. While scrolling through Instagram yesterday, though, I was surprised to see who performed on the show on February 29:  the founder and frontman of Talking Heads, David Byrne.
Byrne, along with a group of other people, performed their biggest hit, "Once In a Lifetime," and another fan favorite, "Toe Jam." While I had heard of the band, seen their album covers, etc., I'd never actually given them a listen. After listening through some of their highest-charting songs over a few days, all I can say is I've been missing out.  
 Considering they're a band from the mid-70s/early-80s, it's incredible to think this type of creativity in sound was able to be produced in such an era; one that was ahead of its time. 
The band consists of frontman and singer and guitarist David Byrne, drummer Chris Frantz, bassist Tina Weymouth, and keyboardist Jerry Harrison. By fate, Byrne, Frantz, and Weymouth met at the Rhode Island School of Design in the early '70s. In 1974, they decided to move to New York to focus on making music.
In 1975, the band won a spot opening for the Ramones at the seminal New York punk club CBGB. The next year, 1976, is when keyboardist Jerry Harrison joined, the band was complete.
It took no time for the band to gain recognition, with their first album, Talking Heads: 77,  receiving a considerable amount of acclaim for its style and technique, both of which were creative and original. Combining those elements with Byrne's lyrics and vocals, Talking Heads were speaking the term "art rock" (a term that reflects a challenging or new approach to rock, one of which makes use of modern, experimental, or unconventional elements) into existence.
Unfortunately, after releasing four albums in barely four years, the group went into hiatus, officially breaking up the four heads from a body that exuded an energy that was unmatched. 
After this transpired, Byrne continued their legacy by occasionally playing the band's hits, with a very rare appearance on the earlier mentioned SNL performance including backup members from his stage show, American Utopia. With all its members doing their own things nowadays, though, David Byrne shoots down most inquiries of a band reunion.
After 8 albums, the group has made an impression on the avant-garde punk rock genre will never forget. With their album Remain In Light constantly being hailed as one of the greatest of all time on top of their induction in the Rock 'N' Roll Hall of Fame in 2002, Talking Heads are still being "talked" about today and will be for years to come. 
Now for some recommendations! Some good songs to listen to first to get started with are: "Once in a Lifetime" off their album Remain in Light and the song "Psycho Killer" off their debut album Talking Heads: 77. Even after just a few songs, you should get a good taste of what the group is all about and hear the creativeness the "heads" use their voices to present.
For links to their music online:
Spotify: https://open.spotify.com/artist/2x9SpqnPi8rlE9pjHBwmSC 
Apple Music: https://music.apple.com/us/artist/talking-heads/155546