MOVIE REVIEW: Delightful new "Emma" comes to homes early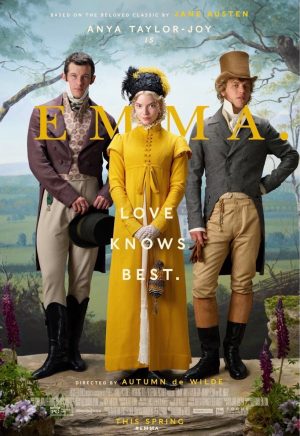 Before the COVID-19 outbreak became widespread, we went to go see the movie Emma directed by Autumn de Wilde. The release date was February 21, and it has been well received by critics.
Based on the classic book of the same name by Jane Austen, Emma follows the life of Emma Woodhouse (Anya Taylor-Joy) a young woman who lives in Regency England. In the movie, Emma has two suitors, George Knightley (Johnny Flynn) and Frank Churchill (Callum Turner).  She spends her time matchmaking and socializing, which gets her into trouble throughout the movie. The actors portrayed the characters they were playing exceedingly well.
Alongside the entertaining and witty plot, the details of the movie were very impressive. From the pastel color pallet to the intricate dresses, much thought was put into the production of this movie. The way everything is arranged shows how details were a key aspect of filming this movie. The score accompanies the film quite nicely. The mix of church hymns and Fresh Market-esque music gives a proper sense of the time period. 
Due to the recent pandemic, this week, several movies are being released early, including Emma. The movie was released for streaming on March 20. Emma will be available to watch on Amazon Prime, iTunes, and Google Play, etc.
If you have read the book Emma, this movie helps you to visualize the setting and understand the plot. Overall, Emma is a fantastic film for both fans of Jane Austen and casual moviegoers alike.