Statewide shelter in place order issued as Mississippi hits 1,000+ cases of COVID-19 (UPDATE 4/3)
Up to date as of April 3rd, 2020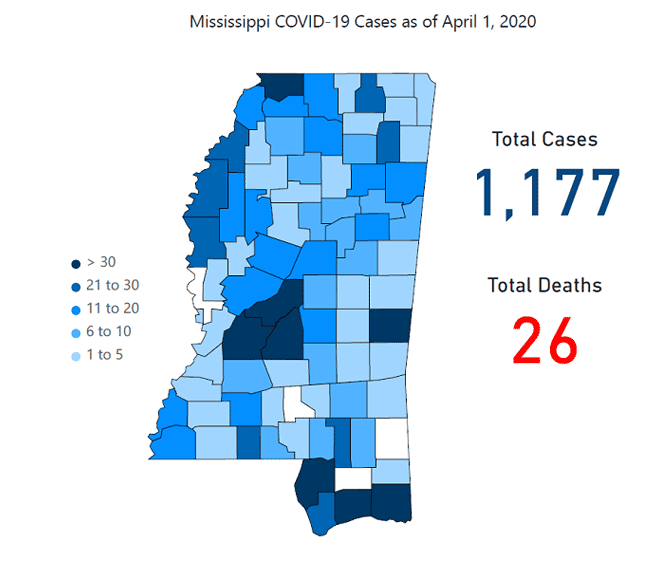 COVID-19, commonly referred to as coronavirus, has struck Mississippi head on. As of April 1st, there have been 1,177 reported cases of the virus in Mississippi and 26 deaths, spanning 78 of the 82 counties. The number of reported cases has been increasing rapidly over the last few days due to an increase in testing.
For all of Mississippi, Governor Tate Reeves issued a state of emergency to "deploy the necessary resources to protect public health and take care of all Mississippians." The Mississippi State Legislature has suspended their scheduled meetings until April 1st. The governor has also announced that all public schools throughout Mississippi will be closed until at least April 17th. This closing of schools in the area has led to many schools switching to online learning, and many districts are offering free meals for students. 
On March 24th, Governor Reeves signed Executive Order 1463 stating as follows: non-essential gatherings of 10 or more people must be avoided, dine-in services must be suspended, elective surgeries must be cancelled, no visitors will be allowed at hospitals, nursing homes, and long-term care facilities, and working from home is encouraged. The order does allow essential businesses to remain open. Essential businesses under the order are the following: grocery stores, take-out restaurants, hospitals and clinics, gas stations, pharmacies, first responders, ultities, financial institutions, post offices, and child care services. The order says that it is in effect until April 17th. On March 29th, President Donald Trump extended social distancing guidelines to April 30th, so one could assume that the order will stay in effect until then.
On March 31st, Governor Reeves issued a shelter in place order for two weeks for Lauderdale County. Reeves has also stated that he will issue other shelter in place orders as needed. The order requires individuals to stay at home, and if it is essential to leave the house, they must practice social distancing. The order also suspends evictions, but individuals are still required to pay rent or make any mortgage payments.
On April 1st, Governor Reeves issued a statewide shelter in place order. It allows for enforcement of current social distancing requirements.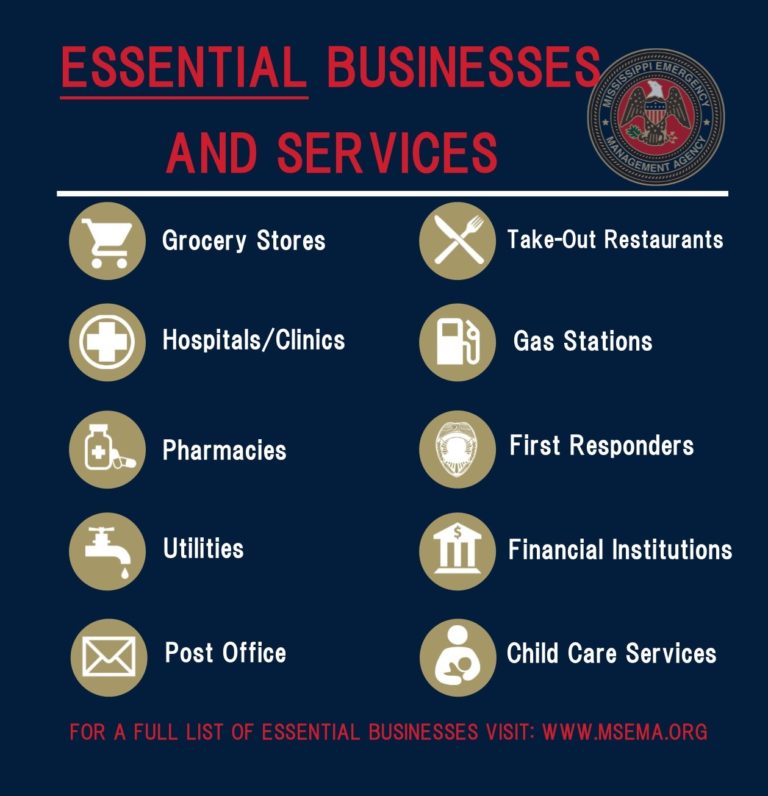 In Jackson, Mayor Chokwe Lumumba declared a civil emergency closing all non-essential government offices and requiring these workers to work remotely. Mayor Lumumba signed an executive order on the 18th, prohibiting gatherings of more than 10 people and limiting gatherings in Jackson to 10 or fewer people. This order also closes bars and limits access to restaurants.
On April 1st, Mayor Lumumba issued a stay at home order for Jackson that goes into effect on Friday. It closes all nonessential businesses, and only essential businesses can be open;only essential travel is allowed. 
The University of Mississippi Medical Center, UMMC, is preparing for an increase in the number of coronavirus patients. UMMC has set up a free testing site at the State fairgrounds. To be tested, residents must have a fever of at least 100.4 degrees Fahrenheit, a severe cough or chest pains, and shortness of breath. People who have been simply exposed should stay home, and if they show symptoms, they should get tested. To qualify, residents must download the C-Spire Health app, fill out the applications, and speak to health experts about their symptoms. Once qualified, residents can pull up to the fairgrounds from 9 a.m. to 5 p.m. Tests take about 15 minutes.