Telemedicine and telehealth on the rise amid coronavirus
Just a few weeks ago, life seemed normal for everyone. The coronavirus just seemed like a hiccup and no one was taking it seriously. At the time, the virus was only affecting the population of Wuhan, a large city in the Chinese province of Hubei. But then the first case of corona appeared in the United States. Not long after, schools and restaurants were closing, cases were increasing, and the economy was plummeting.  Everyone's life had changed within only a few weeks. Many people may have been hesitant under these conditions to go to a doctor's office for fear of exposure to the virus from other people. Fortunately, there are options available today that weren't around just a few years ago. If there can be said to be good outcomes from the coronavirus, one might be the increased awareness and use of telemedicine and telehealth.  
The terms telemedicine and telehealth are often used interchangeably, but there are some differences.  According to the American Academy of Physicians, telemedicine is defined as the practice of medicine using technology to deliver care at a distance while telehealth refers to a broad collection of electronic and telecommunications technologies that support health care delivery and services from distant locations. 
Telemedicine has been around in one form or another for almost 40 years,  but normally was only used in rural areas. It occurs between a patient at a spoke sight and a physician or other practitioner licensed to practice medicine at a distant site. 
Since the pandemic, government and health care systems have had to rely on telemedicine and telehealth. One fear among medical professionals is both large and rural hospitals becoming overwhelmed with the number of patients. This is a problem for the emergency rooms because some patients that are coming in sick are putting healthcare professionals and people at risk by infecting them. Both platforms allow patients and health care providers to be in contact with medical professionals and specialists without having to be in close contact resulting in a smaller percentage of contracting the virus. 
Of course, there are some limitations to telemedicine and telehealth such as when you have broken a leg, need to listen to a patient's lungs, or taking an x-ray. 
Many companies and other institutions have put in place telemedicine or telehealth options as a way to help their employees and, perhaps, to keep costs down. Jackson Prep, for example, has offered telehealth opportunities to its employees for several years through the University of Mississippi Medical Center.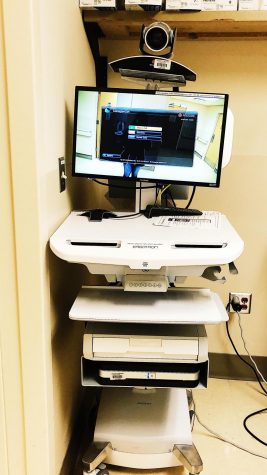 Even before the pandemic started, the federal government had taken steps to expand opportunities for telemedicine and telehealth. According to Modern Health Care in March, Congress included the use of telemedicine services in an emergency aid package. The appropriations bill also waived some Medicare restrictions on payment for telemedicine so that seniors can use remote services for coronavirus treatment. 
On March 17, the Centers for Medicare and Medicaid Services expanded telehealth services by removing a few more restrictions on telehealth paid for through Medicare. Medicare covers over 60 million Americans who are 65 and older. Telehealth visits through Medicare had restricted older adults living in rural areas unless patients already had a relationship with a provider that took place in a rural area. Since the new expansion, Medicare beneficiaries can receive care in their homes through devices such as computers or phones that have a camera and microphone. Patients will also be billed for any services at the same amount as an in-patient visit.
As March ends, Mississippi has had 579 confirmed cases, over 3000 tests conducted, and 8 deaths.  On March 17, Governor Tate Reeves announced an expansion of Medicaid coverage for telehealth services to limit travel and visits to the hospital. 
Dr. Ken Cleveland, the Executive Director of the Mississippi Medical Licensure Board in Mississippi said, "We extended the telemedicine laws to include over the phone instead of using special equipment where the patient is. During this time of emergency, you can prescribe if needed." 
As  more patients in Mississippi are contracting the virus, health centers are encouraging hospitals to expand their use of telemedicine and for people to stay out of the public. Make sure to continue washing your hands and staying clean during this time.