As COVID-19 pandemic continues, United States hopes for light at the end of a dark tunnel (COVID-19 weekly national/international update)
The CDC page on COVID-19 cases in the United States is updated every Monday through Friday at noon. CDC statistics taken from 4/03/20 update and the preliminary 4/05/20 update.
At the beginning of this past week, United States unemployment continued to rise, with a record 6.6 million Americans filing for unemployment benefits. Recognizing that most of the increasing unemployment will be temporary is important, but when people will begin to return to work is yet undetermined. New York City remains the hardest hit area of the nation; according to the CDC, the state is now reporting 90, 279 cases of COVID-19. Nationwide cases have reached over 304,000, and deaths total 7,616. 
China continues to share data concerning the outbreak; however, many have expressed doubts about the accuracy of these reports, as the Chinese government has proven to be less than forthcoming and honest in the past. The European Centre for Disease Prevention and Control also regularly posts updates on the state of the outbreak throughout the European Union. The World Health Organization reported in its April 4, 2020 situation report that worldwide cases had climbed over 1 million and deaths over 50,000.  ur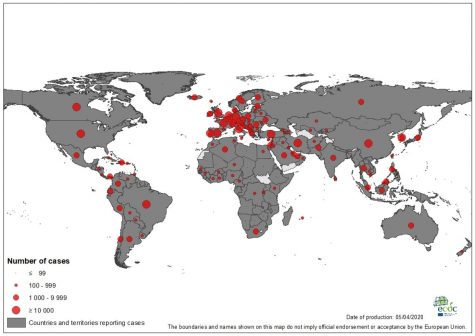 The White House Coronavirus Task Force has continued to hold daily press conferences. During Saturday's (4/04/20) press conference, Dr. Birx stressed the fact that "Spain and Italy are moving through this. They are seeing their number of cases drop." The United States is about 12 days behind Spain and Italy in the course of the outbreak, so the gradual infection decline in these nations could signal an eventual light at the end of the tunnel for the United States. Dr. Birx also mentioned that there are many states in which a high degree of testing has yielded a low percentage of positive tests, demonstrating the success of mitigation efforts. In states with mid-level outbreaks, the task force will continue to monitor the direction numbers are trending to further gauge the success of mitigation efforts. Dr. Fauci emphasized his confidence in mitigation and that if people across the nation establish physical separation as a baseline the infection curve will begin to turn. Dr. Fauci has also recommended wearing a mask or scarf over the mouth and nose when in public, not only to protect yourself but to protect others from you. How far the curve will drop, Dr. Fauci said is impossible to say for certain, but he was positive about the effects of social distancing. The degree of quarantine guidelines and social distancing efforts has been left up to governors by the White House due to the variations in severity across states.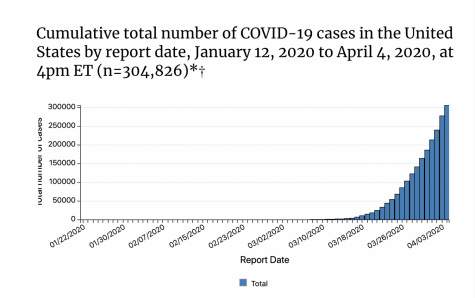 Dr. Birx stated that predictions indicate infection rates in hotspots in New York are expected to peak in the next 6 to 7 days. If mitigation has been successful in New York, the number of cases should begin to decrease soon; however, the decrease in fatalities will not fall directly proportional to infections. When cases begin to decrease, testing for antibodies is expected to ramp up to determine more accurately how many people contracted and recovered from the virus and how many of these were never even tested for the virus due to the low severity of their symptoms. The more data is collected, the more accurate estimations of fatality rate and infection rate will be. 
Every member of the task force who spoke at the press conference emphasized the extraordinary efforts of healthcare workers on the frontlines of fighting the pandemic. As doctors, nurses, and medical students place themselves at risk simply by showing up to work every day, they must cope not only with a viral outbreak but with shortages of personal protective equipment, ventilators, and bed space. The Army Medical Corps has deployed 1,000 healthcare providers to help understaffed hospitals, and as New York City hospitals became overwhelmed, the US Army Corps of Engineers erected a hospital with a 2,500 bed capacity within a matter of days. The ship USNS Comfort was dispatched to New York City to house non-COVID-19 patients in a further effort to help overburdened hospitals.  However, there are few non-COVID-19 patients in the city, and doctors continue to stress how overwhelmed and in need of assistance they are as they run out of supplies and begin to lose their own to illness. While the number of hospitalizations is great, there is some good news in that the CDC is reporting low hospitalization rates relative to the number of confirmed cases.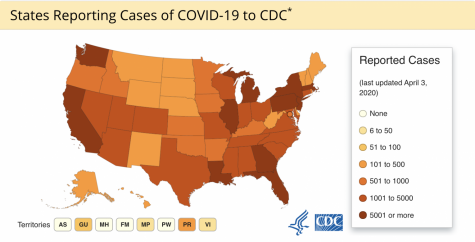 Despite the increase in cases, doctors have been reporting the hydroxychloroquine, a medicine commonly used to fight malaria, has shown promise as a treatment for COVID-19. No clinical trials have been conducted, as focus is currently on bringing the outbreak under control; however, many reports show that patients treated with hydroxychloroquine show more positive outcomes than those who are not. Furthermore, the medicine has few side effects and has been approved by the FDA with a low risk rating. Plasma transfusions from recovered patients to ill patients are also being used. Blood plasma contains the antibodies that provide immunity against a virus, so the transfer of plasma results in a transfer of antibodies, helping an ill patient fight off the virus. Plasma transfusions are being run through the Red Cross and are not yet a widespread treatment. When asked about a possible resurgence, or second wave, of the virus warned about by China, Dr. Fauci stated that the US would need to have in place the capability for precise containment, testing, identification, and contact tracing. He also stated that he was confident the United States would be prepared for such a possibility, as long as people proceed carefully as quarantine restrictions are pulled back. 
"I don't think people can really fully appreciate the extraordinary effort of these people… The American public owes [them] a phenomenal debt of gratitude," Dr. Fauci said of exhausted healthcare workers across the nation, referring to them as "warriors" throughout the address. 
"We have to get back," says President Trump. How soon life will return to some semblance of normalcy for the citizens of the United States remains unclear, but it will likely vary by state. The situation in New York City is grim, but doctors continue to work tirelessly to fight the outbreak. There will come an end to this pandemic, and if it means another month or more of quarantine and social distancing then we must all put aside our frustration and do what we can to support our healthcare workers, even if all we can do is pray or simply say "thank you." 
Hopefully, the declining trends in Spain and Italy are indicative of what is to come for the United States. In the meantime, it is imperative that we maintain social distancing practices, watch out for vulnerable members of society, wash our hands, and, as always, don't hoard toilet paper.
The COVID-19 pandemic is a developing story, and The Sentry will continue to post updates as the situation progresses.